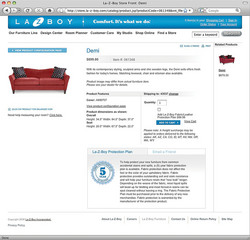 As more consumers are cross-channel shopping, it is imperative that La-Z-Boy provide them with the information and resources they desire and the ability to make their purchase whenever and however they want to
Monroe, MI (PRWEB) June 27, 2008
La-Z-Boy, the nation's leading manufacturer of upholstered furniture, has begun offering consumers the option to buy furniture online, including select recliners, chairs and sofas, marking the first time La-Z-Boy has sold furniture, including the iconic La-Z-Boy® recliner, on the Internet. The company's integrated retail approach will allow customers to purchase select upholstered furniture at http://www.la-z-boy.com, while maintaining the high level of customer service provided by a local La-Z-Boy Furniture Galleries® furniture store.
Once online orders are processed by La-Z-Boy, the company's cross-channel system utilizes the national network of local La-Z-Boy Furniture Galleries stores to ensure seamless service, delivery and one-on-one customer follow-up. To guarantee a comfortable online experience, the company also is offering consumer telephone and e-mail support Monday through Friday from 8 a.m. to 11 p.m. EST and Saturday and Sunday from 8 a.m. to 6 p.m.
"As more consumers are cross-channel shopping, it is imperative that La-Z-Boy provide them with the information and resources they desire and the ability to make their purchase whenever and however they want to," said Doug Collier, chief marketing officer for La-Z-Boy. "Our e-commerce model will offer customers the best of both worlds - the convenience of online furniture shopping and the service of a local store."
By offering customers the ability to both shop for La-Z-Boy furniture online and research furniture purchasing decisions from the comfort of home 24 hours a day, the company will further enhance the shopping experience for consumers.
The La-Z-Boy e-commerce offering will initially include 10 room groups and nine top-selling recliners representing a wide variety of styles and available in select fabrics and leathers. Both stationary and motion styles, including the company's contemporary "Demi" and transitional "Kiefer" stationary sofa groups and "Lancer" and "Gibson" recliners, will be included in the online assortment. Fabrics and leathers for the frames also will range from traditional to contemporary and include today's most popular color choices for the home.
The ability to order online enhances the already robust La-Z-Boy Web site which is an intuitive, helpful resource with its virtual room planner, realistic fabric-to-frame rendering and local dealer locator. La-Z-Boy has partnered with Fry, Inc., a world-class e-commerce integrator, that has helped companies such as Ann Taylor, Whirlpool and Crate and Barrel develop e-commerce and web platform solutions. La-Z-Boy plans to extend online offerings to include more furniture styles and tables, lamps and accessory (TLA) items in the near future.
About La-Z-Boy:
Headquartered in Monroe, Mich., La-Z-Boy is North America's largest manufacturer of upholstered furniture and the world's leading producer of reclining chairs. The company manufactures a full line of comfortable products for the living room and family room, including the company's world-famous recliners, reclining sofas and love seats, sleep sofas, modular furniture and leather upholstery, as well as stationary sofas, love seats and chairs. It is a division of La-Z-Boy Incorporated (NYSE: LZB), one of the nation's largest furniture manufacturers and marketers. Comfort. It's what we do.
###