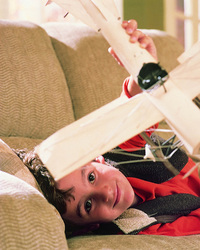 We are proud to be associated with the La-Z-Boy brand, which has been a symbol of comfort and support for more than eight decades
Monroe, Mich. (PRWEB) August 21, 2008
All the comforts of home. For the families of ill and injured children utilizing Ronald McDonald House Charities® (RMHC®) facilities, the comforts of home bring a sense of normalcy during a time that's anything but normal. And as the new official furniture provider for RMHC, La-Z-Boy will help provide a home-away-from-home to families when they need it most. RMHC and La-Z-Boy have entered into a multi-year sponsorship agreement to bring the company's world-famous, comfortable furniture to Ronald McDonald House® programs and Ronald McDonald Family Room® programs throughout the U.S. and Canada.
"Whether it's the home-cooked meals that give parents more time with children or the warm, welcoming environment that helps families relax, Ronald McDonald Houses provide families with comfort in every sense of the word," said Kurt Darrow, president and CEO of La-Z-Boy. "La-Z-Boy furniture has been synonymous with comfort for North American families for decades, and we hope that it can bring a small sense of serenity to the families of RMHC, too."
"We are proud to be associated with the La-Z-Boy brand, which has been a symbol of comfort and support for more than eight decades," said Marty Coyne, president and CEO of RMHC. "RMHC wouldn't be where it is today if it weren't for the support of corporate donors. Ronald McDonald House Charities, and its network of local chapters, is projected to grow its programs by 37 percent by 2010, and we couldn't do that without the generous contributions of time, money and in-kind donations from companies like La-Z-Boy. Their furniture will bring comfort to families every night who are experiencing some of the most stressful times of their lives. RMHC is a global organization, and our corporate donors allow us to directly impact children and families on a local level."
The La-Z-Boy contribution to RMHC will include annual furniture donations to all Ronald McDonald House programs and Ronald McDonald Family Rooms in Canada and the United States, as well as a cash contribution to RMHC. Over the next few years this will add up to thousands of pieces of furniture, consisting of stationary and motion sofas, love seats and sectionals, occasional tables and other wood furniture, as well as ottomans, accent chairs and, of course, recliners. In addition, an excited corps of volunteers made up of the employees of La-Z-Boy Incorporated, together with the company's retail partners across North America, is ready to contribute comfort to RMHC in other ways.
"Comfort is more than a tagline at La-Z-Boy, it's a commitment. The true value of this partnership goes beyond the furniture we will provide and extends into the local support, fundraising and volunteerism we will offer the individual Ronald McDonald Houses and their participating families, who are so in need of compassionate care," said Darrow.
About La-Z-Boy
Headquartered in Monroe, Mich., La-Z-Boy is North America's largest manufacturer of upholstered furniture and the world's leading producer of stationary sofas, love seats and chairs. It is a division of La-Z-Boy Incorporated (NYSE: LZB), one of the nation's largest furniture manufacturers and marketers. Comfort. It's what we do.(SM)
About Ronald McDonald House Charities
Ronald McDonald House Charities, a non-profit 501 (c) (3) corporation, creates, finds and supports programs that directly improve the health and well-being of children. Its programs are grassroots-driven to enable the Charity to offer help where children need it most -- right in their own communities. RMHC makes an immediate, positive impact on children's lives through its global network of local Chapters in 53 countries and regions and its three core programs: Ronald McDonald House®, Ronald McDonald Family Room® and Ronald McDonald Care Mobile®. RMHC and its global network of local Chapters have awarded more than $460 million in grants and program services to children's programs around the world. For more information, http://www.rmhc.com/.
###