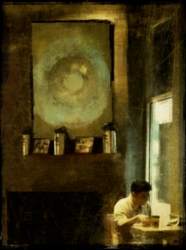 We're really excited for this opportunity to champion the creative work at LA Mobile Arts Festival this year.
Santa Monica, CA (PRWEB) July 12, 2012
Autodesk, Inc., a leader in 3D design, engineering, and entertainment software, has come on board as partner for the LA Mobile Arts Festival 2012 (LA MAF). (August 18-25, 2012 at the Santa Monica Art Studios.)
Award-winning mobile artists from around the globe will show off their latest creative works at the Los Angeles-based festival, produced by online mobile arts community iPhoneArt.com (IPA).
Autodesk software and apps are helping to unlock the creativity in everyone, while inspiring the next generation of designers, engineers, and creative artists through a host of best-in-class, ever-evolving, and intuitive tools. With more than 80 million users, Autodesk's consumer portfolio empowers creative expression for everyone, at every skill level and across a range of platforms through its various apps, whether drawing from a blank slate in Autodesk® SketchBook®, editing an existing image in Autodesk® Pixlr™, or customizing a digital clay model with Autodesk®123D®Sculpt.
"Autodesk brings state-of-the-art technology into the world of mobile art," said IPA co-founder and LA MAF producer Daria Polichetti. "They make it possible for everyone to try out the kind of visual software technology only large production companies used to have access to.
"The LA Mobile Arts Festival is an opportunity to captivate an even broader audience and show the world what mobile art is all about. Autodesk brings a lot of creative technology to the table. They are a fantastic company, interested in supporting the arts, and giving back to the community in a big way. We are proud to have their support and look forward to working with them to make the first LA MAF into a truly memorable and ground-breaking event," continued Polichetti.
"We aim to provide the most powerful and comprehensive tools for digital art that speak directly to artists' needs. We're really excited for this opportunity to champion the creative work at LA MAF this year," said Thomas Heermann, director of product management, Autodesk Consumer Products. "We're also proud to play a part in changing how, where, and with what tools people unlock their creativity and support them in finding new inspiration through the digital art medium."
The LA MAF event is Santa Monica Art Studios' (SMAS) first-ever mobile arts exhibition, showcasing interactive mobile artistry. SMAS is a major mecca for contemporary art and design in the Los Angeles area, located close to Silicone Beach: a new hub for mobile app and technology development. Visit LA MAF online for details.