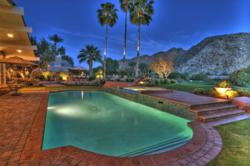 With real estate prices rolled-back to 1998 to 2002 price levels, the La Quinta real estate market offers unprecedented buying opportunity.
La Quinta, California (PRWEB) January 31, 2012
Brad Schmett, Broker Associate with Luxury Homes by Keller Williams and real estate expert, has today announced that La Quinta CA luxury real estate was the "big winner" at the debut PGA Tour Humana Challenge golf tournament, formerly known as the Bob Hope Classic. The newly-named and revitalize 52 year-old PGA golf tournament, which was played January 19-22 in La Quinta, CA, has put a huge spotlight on the La Quinta area – in particular luxury homes for sale in La Quinta.
Brad Schmett, an expert in both La Quinta real estate and Palm Springs real estate, specializes in helping buyers purchase luxury vacation properties and second homes in golf course and gated communities. Through his many years of service, Schmett has earned a reputation for providing the highest level of service to his clients.
Schmett states, "This golf tournament always draws attention to our gorgeous real estate here in La Quinta. This year, however, with local real estate available at decade-low prices, the overall interest level was greatly magnified. Our luxury golf course homes and condos, in particular, generated immense interest and spurred major buying activity since in most instances those properties can now be purchased at 60% or more off market high prices of 2006-2007."
La Quinta, California, known as the "Gem of the Desert" offers a stunning blend of beauty, charm and opportunity. Named by the Robb Report as "The Best Place to Live for Golf", La Quinta actually offers 25 golf courses, most of them world-class.
January through May is typically the best time to purchase luxury real estate in La Quinta, CA. According to Schmett, "Beginning in mid-January, La Quinta's luxury home inventory will typically increase significantly, as sellers relist their homes to take advantage of "high season" when seasonal residents and visitors return and the population of La Quinta and the Palm Springs area doubles in size."
According to Schmett, who recently sold a $4.9 million luxury home at Hideaway in La Quinta, "Our annual golf tournament, which is always held in either late January or early February, serves as a seasonal launching pad for local real estate activity. This year's launch was better than ever. La Quinta's gorgeous scenery and warm, sunny winter weather coupled with the new tournament format, a new tournament sponsor and the direct involvement of and multiple personal appearances by former President Bill Clinton worked in harmony to put a huge spotlight on the tremendous real estate buying opportunity here in La Quinta."
La Quinta, known for world-class golf, offers three of the most popular luxury gated golf communities in the greater Palm Springs, California, area. These include Hideaway, Tradition Golf Club and The Quarry at La Quinta. Schmett says, "For buyers, the deals available at these impressive La Quinta communities are remarkable, with luxury homes selling well below replacement cost."
"Prices in the high-end market have in many cases dropped 60 percent or more from their peak in 2006-2007," says Schmett, "in part the result of foreclosure and distressed properties driving prices down and creating a situation where the rest of the market had to change their pricing strategy in order to be competitive."
However, those interested in buying luxury real estate in La Quinta, California need to move quickly in order to take advantage of this wider availability and lower prices. High season for the area runs January 1 through April 30, so now is the time to buy.
To find out more about investing in La Quinta real estate visit http://www.LaQuintaRealEstateInfo.com.
About Luxury Homes by Keller Williams: Luxury Homes by Keller Williams – La Quinta, is an exclusive, elite and sophisticated group of real estate consultants raising the bar for service in the upper-tier La Quinta and Palm Springs area residential real estate market.
###