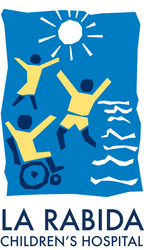 Working together, we identify what a child needs today to maximize his or her health and well-being in the years ahead
Chicago, IL (PRWEB) March 2, 2010
La Rabida Children's Hospital today released its 2009 Annual Report, together, online exclusively at http://www.larabida.org/about-us-annual-report .
The 18- page year-in review tells the story of how La Rabida meets its mission to care for children with special healthcare needs by working together not only with patients and their families, but also the larger community, donors and referring medical providers.
Central to its mission is La Rabida's commitment to treat patients regardless of their ability to pay. Many of the hospital's 9,000 patients have medically complex conditions, requiring more services more often. Some exceed the lifetime maximum of private hospital insurance and most depend on Medicaid.
"Working together, we identify what a child needs today to maximize his or her health and well-being in the years ahead," the annual report states.
This is the second year the hospital has produced an e-annual report online, forgoing the cost of printing and postage, saving natural and material resources as supporters look for greater returns on their investments.
Postcard previews were sent to supporters notifying them of the report's online availability.
La Rabida Children's Hospital, established in 1896, is a pediatric acute care hospital, specializing in the treatment of chronic illnesses and developmental disabilities. In addition, it operates nationally recognized programs for children who have experienced trauma and abuse. La Rabida provides family-centered, interdisciplinary care to 9,000 children with special healthcare needs each year at its lakeside location in Chicago. http://www.larabida.org .
Contact:
Zion Banks
773.256.5955
zbanks(at)larabida(dot)org
###