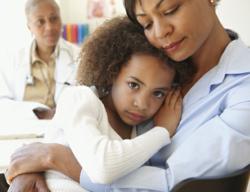 We try to establish a sense of safety and let them know you'll never lose the memory, but down the line, the memory won't be so filled with emotion and trauma. It will just be a memory.
Chicago (PRWEB) February 03, 2012
A little boy suffers third-degree burns when a pot of boiling water tips over on him. Doctors immediately sedate him, spend weeks treating his wounds and send the toddler home.
Now his mother can't get him to go in the kitchen or bathe. He is afraid to engage in daily functions and activities he previously enjoyed. Everything seems to remind the boy of his painful burns and he's trapped by fears that lead to avoidance.
This is the psychological impact of medical trauma and the focus of an April 20 comprehensive conference hosted by La Rabida Children's Hospital. Registration is now open.
The conference, Perspectives in Care: Medical Trauma in Childhood, to be held at the Tinley Park Convention Center, was designed for health care professionals, including nurses, educators and others seeking to learn more about the consequences of significant medical events and strategies to improve the quality of care for children who have latent issues.
A La Rabida interdisciplinary team representing the fields of psychology, nursing, speech-language pathology, social work and early intervention planned the event with the goal of highlighting a new field of study in the worlds of psychology and medicine, as well has helping children heal – inside and out.
Conference planners define medical trauma as a child's or family's experience of scary, painful, and/or highly distressing medical events and their responses to them.
Judith Simon Prager, Ph.D., one of eight featured speakers, will present Verbal First Aid. All presenters will address varying aspects of psychological trauma resulting from medical events.
Liz Jazwiec, R.N., winner of the American Journal of Nursing 2010 Book of the Year Award, is the closing keynote speaker. Yippee! Another Day in Paradise . . . Driving Negativity out of the Workplace will help participants create positivity at work.
La Rabida's Brad Stolbach, Ph.D., a nationally recognized expert on post traumatic stress disorder (PTSD), will discuss the nuisances of treatment strategies in So What is Trauma-Informed Care Anyway and How Do Know if I'm Providing It?
Chronic Disease Pediatrician Ruby Roy, M.D., and Lindsay Amper, Ph.D., a post-doctoral fellow at La Rabida Children's Hospital, will also address psychosocial and medical issues related to trauma.
A nursing track will include presenters Melissa Alderfer, Ph.D., the Cancer Center of The Children's Hospital of Philadelphia, and La Rabida's Rose Briars, N.D., PNP-BC, CDE.
Amper said experts now know that healing from medically traumatic experiences, like car accidents or burns, is often improved once the survivors work through their emotional triggers.
"A child who has a burn is constantly reminded of trauma because of the physical reminder on their skin,'' Amper said. "We try to establish a sense of safety and help them to integrate the trauma into their sense of self. We want them to know that, although they will never lose the memory of being burned, eventually the memories and the experience will not be so emotionally distressing."
Learner objectives have been developed for each session and are available at larabida.org. Objectives also will be listed in the registration materials on the day of the event. Success will be achieved through completed evaluation tools and attendance sign-in sheets.
Register at http://www.larabidamedicaltrauma.eventbrite.com and use promotional discount code "earlybird" before March 15. The fee is $160 on and after March 15.
For more information, call 773-753-8649 or 773-753-9605.
###