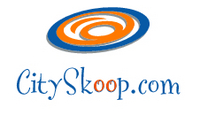 Diners will be supporting local restaurants as well as an important and effective charity.
Los Angeles, CA (PRWEB) March 13, 2008
CitySkoop.com, which posts shopping sales, restaurant specials and spa deals from businesses in New York, Los Angeles and San Diego, has partnered with Dine Out Los Angeles to help promote the annual fundraising event benefiting Aid For AIDS.
On April 17, 2008, Los Angeles area restaurants participating in the 14th Annual Dine Out Los Angeles benefit will donate 20% or more of their day's proceeds to Aid for AIDS, which helps prevent homelessness and hunger for individuals and families impoverished and disabled by HIV/AIDS.
CitySkoop will list participating restaurants on its website and offer other promotions to help raise awareness. "Dine Out LA is an amazing event and CitySkoop is honored to help publicize it," explains CitySkoop co-founder Jillian Dolin. "Diners will be supporting local restaurants as well as an important and effective charity."
This one-day event includes breakfast, lunch and dinner, and has attracted restaurants in West Hollywood, Beverly Hills, Silver Lake, Pasadena, Long Beach, and Santa Monica. Most participating restaurants will contribute 20% of their entire day's proceeds, but some will contribute up to 60%. Diners will also have a chance to win a 2-night hotel package, including breakfast and spa treatments, at the Loews Santa Monica Beach Hotel or the Loews Coronado Bay Resort.
Dine Out Los Angeles directs the day's proceeds to Aid for AIDS, which is one of the oldest running AIDS assistance organizations whose goal is to enhance independent living for people afflicted with HIV/AIDS.
Typically, CitySkoop lists restaurant deals and shopping sales that help customers save money, such as half price wine nights and happy hour specials. In addition, they offer free advertising for charities to publicize special events.
For more information about CitySkoop or to list a promotion, please visit CitySkoop.com or contact Jillian Dolin. For more information about Dine Out Los Angeles please click here.
About CitySkoop, LLC:
CitySkoop.com is the premiere online destination for multi-channel consumers seeking local sales, specials and promotions for Clothing & Furniture Stores, Restaurants & Bars, Spas, Salons, and Fitness Centers in New York, Los Angeles, and San Diego. Information is posted on CitySkoop.com and delivered through email newsletters.
Contact:
Jillian Dolin
CitySkoop LLC
310-294-1219
###