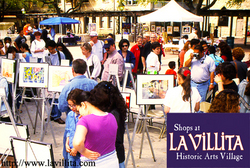 peace, friendship and justice between the United States of America and all other nations in the Western Hemisphere
San Antonio, TX (Vocus) May 17, 2010
La Villita hosts many art shows, festivals, events and fiestas throughout the year. Additionally, there are over twenty permanent storefronts that will display and sell the student watercolors following the show on Saturday, May 22. These storefronts also include a permanent showcase of: prints, paintings, woven items, Texas memorabilia, contemporary clothing and jewelry, ceramics, pottery, Mexican folk art, bonsai trees, fine art from Texas, Southwest Art, Stained Glass, Bead Work, "Found" Art, abstracts, Day of the Dead artwork, Copper Art, Scent Chips, acrylics, photos, sculptures, Western Wear, rugs, tapestries, fossils, gems, and much, much more.
As a European settlement, the area of La Villita dates back to the 1700s, when it was used to house the families of Spanish Soldiers assigned to San Antonio de Béxar Presidio. Its modern incarnation is owed to the work and vision of Mayor Maury Maverick and his desire to promote "peace, friendship and justice between the United States of America and all other nations in the Western Hemisphere". In 1939, "The La Villita Ordinance" was passed (in great part to the efforts of Mayor Maverick), to outline the future use and purpose of La Villita. La Villita today remains a tribute to Mayor Maverick's vision, a home to the Arts and Crafts, a tribute to the past, leaders of the past and a project of "Preservation and Continuation". Mayor Maverick's vision and guidelines for La Villita continue to steer the efforts of the La Villita Tenants Association.
La Villita offers the opportunity for student artists to explore their talents and interests, for tourists and visitors to experience the history and culture of San Antonio, and for artisans and storefronts to share their unique arts and crafts with the thousands who visit each year and take a bit of the Pan-American culture home with them. The Tenants of La Villita invite you to join them in supporting the Say Sí La Ví Student Artists on May 22 at noon. Admission is free and there will be much to see and do in the village. Stores are open from 10 to 6pm each day. Student watercolors will remain on display and sell for a period following the May 22 event. La Villita is located directly across from the Convention Center and between the Hilton Palacio del Rio and Fairmount Hotels in downtown San Antonio.
# # #