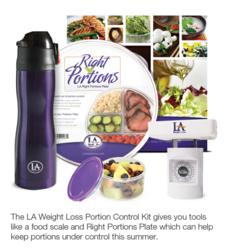 "At LA Weight Loss, we teach you how to reach your weight-loss goals with real food and an easy, convenient at-home program," Caroline Kolompar, Chief Marketing Officer .
Greensboro, North Carolina (PRWEB) June 12, 2013
Summer is a tough time for weight loss success. Though it's easier to find fresh, local produce in grocery stores and farmer's markets, a quick, easy salad can quickly and easily turn into a caloric disaster during summer get-togethers. Added dressings – often featuring mayonnaise and oil – plus out-of-control portions can ruin the best intentions.
Summer is also the most popular season for weddings, requiring men to dust off that ill-fitting suit and women to choose a dressy outfit to attend the special event. Often it's a struggle to fit into special occasion clothing – and this challenge only becomes more difficult after a night of eating and drinking to celebrate the new union.
But whether this summer's plans involve casual or more formal get-togethers, LA Weight Loss can help keep portions in check through their unique weight-loss plans. Even wise food choices can be derailed by out-of-control portion sizes. Here are a few tips to get started on the right track:
Not all chicken is equal: Though chicken seems to be the universally safe selection on a formal menu, it doesn't always mean it's a healthy choice. Check out the preparation – it's tough to infuse flavor into skinless, boneless chicken breasts for a large group where serving isn't instantaneous. To cut calories, one has to take matters into his or her own hands and peel back the skin (and hidden fat) while pulling meat away from the bone (if there is one). Aim to pull a skinless, boneless chunk roughly the size of a deck of cards – that's a proper serving size of meat protein, such as chicken.
Have good luck at a potluck: Unfortunately, there's just no good way to tell Aunt Sophie her potato salad is overdressed. A better strategy is to offer to bring at least one item from a weight-loss cookbook to every event. That way, there will always be one dish at the buffet that's sure to be a smart choice. Find inspiration in LA's Soup and Salad Cookbook. When navigating the other options on the table, look for a plain veggie or fruit tray and undressed green salad. If some of the other selections look like can't-miss items, place no more than one tablespoon-sized portion on the plate. Take a tiny bite: if it doesn't score a 10 out of 10 for taste – leave the rest behind. The unnecessary calories really aren't worth it, are they?
Take the guesswork out of portion control: Seeing a proper portion during everyday meals often enough will make it easier to accurately eyeball it when it's not appropriate to bring a scale or portion plate to an event. To get used to what a proper portion really looks like, look to LA Weight Loss. Making good food choices and eating in moderation are the keys to losing weight the LA way. LA's Food Scale can quickly determine a four-ounce serving of fish, while LA's Chill Containers are a great way to portion out servings on the go and transport eats from fridge to lunch box to table. The dishwasher-, freezer- and microwave-safe LA Right Portions Plate is an easy, convenient way to determine and divide portions of protein, carbs and greens to keep weight loss on track. For the best value, consider the handy Portion Control Kit containing LA's Soup and Salad cookbook, stainless steel water bottle, LA Chill Containers, Food Scale and Right Portions Plate. The Portion Control Kit includes all the must-have portion control tools needed to take the guesswork out of eating right amount of food.
"LA Weight Loss offers a line of portion-control products to help you remain focused and stay on track," said Caroline Kolompar, Chief Marketing Officer for LA Weight Loss. "Many of us begin a weight loss plan with the best intentions, but moderation and smart food choices are integral to losing the weight and keeping it off. At LA Weight Loss, we teach you how to reach your weight-loss goals with real food and an easy, convenient at-home program. Our products help keep your portions in check, resulting in weight loss success."
About LA Weight Loss
Since 1997, LA Weight Loss has helped millions of people experience long-term weight-loss success. With the convenience of LA's at-home program, members lose an average of one to two pounds per week and learn how to keep it off for good. At LA Weight Loss, healthy living is not just for the rich and famous – it's for everyone. For more information about LA Weight Loss, visit http://www.LAWeightLoss.com.