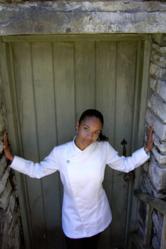 (PRWEB) February 18, 2013
Crooked Brook now offers smartphone friendly lab coats by increasing the default dimensions of both patch and tailored welt shoulder sleeve pockets. The larger pocket is 3.75 inches wide by 5.5 inches deep, accommodating most smart phones and custom pocket sizes are available. The new pocket design has an embroidered eyelet on the inside of the pocket allowing for headphone wires to be run inside the jacket.
Crooked Brook lab coats are made to order according to the customer's style, fit, and fabric specifications. By combining the different options; (fabric, buttons, pocket, collar, cuffs, sleeves and piping) customers can design their own lab coat, or they may order a lab coat the way it appears on their website.
Women's lab coats are available in numerical sizes 2-26. For women whose size is considered petite or plus size (extra large or over size 20), they recommend that customers call them to discuss their body measurements to ensure a proper fit.
In addition Crooked Brook offer women's lab coats in what they call combination sizes. For example, if a woman's body measurements were 39-31-41 according to their size chart she would be their size 14. However, if her measurements were 39-33-43, she could order a 14 top, 16 bottom women's lab coat.
By using combination sizes, maternity lab coats can be made in any of their women's lab coat styles.
About Smartphones
A smartphone is a mobile phone built on a mobile operating system, with more advanced computing capability connectivity than a feature phone. The first smartphones combined the functions of a personal digital assistant (PDA) with a mobile phone. Later models added the functionality of portable media players, low-end compact digital cameras, pocket video cameras, and GPS navigation units to form one multi-use device.
Many modern smartphones also include high-resolution touch screens and web browsers that display standard web pages as well as mobile-optimized sites. High-speed data access is provided by Wi-Fi and mobile broadband. In recent years, the rapid development of mobile app markets and of mobile commerce have been drivers of smartphone adoption.
About Crooked Brook
Crooked Brook is a unit of the atelier division of an art studio that offers full service apparel design, pattern making, sample making, private-label small lot production, direct-to garment printing and embroidery. Since 1989, they've built a strong reputation of providing top-notch apparel designs, patterns, fit and production samples for many brand name catalogs and retailers, as well as wardrobe and costumes for movies, television and theater.
All Crooked Brook branded garments and accessories are proudly made to order in the U.S.A.
In addition, Crooked Brook offers:
Custom and made to order men's and women's chef coats, casino, spa, resort, hotel, chef and restaurant uniforms as well as alumni chef jackets for the Culinary Institute of America.
Although the most popular method of printing t-shirts is screen printing, Crooked Brook t-shirts are printed using Direct To Garment Printing (DTG) which is the process of using inkjet printers to print an image directly onto t-shirts without the use of screens like with screen printing, which requires a lot of setup e.g., creating screens for each color. In addition, DTG printing uses eco-friendly, water soluble ink, unlike some screen printing methods that layer Plastisol (a suspension of PVC particles in a plasticizer) on top of the t-shirt. The only requirement for DTG printing is for the image to be high resolution, resulting in photograph quality printing with no setup fee or minimums for custom t-shirts.
Custom and made to order apparel and accessories for men, women and children, including but not limited to: suits, shirts, Hawaiian shirts, pants, vests, dresses, skirts, gowns, jeans, boxer shorts, martial arts and yoga outfits.
Promotional products, items, decorated apparel and accessories, such as; custom fleece jackets, hats, polo shirts, fleece blankets, sweatshirt blankets, custom embroidered shirts, custom embroidered jackets, embroidered hoodies, golf shirts, tote bags, custom embroidered sweatshirts and aprons that can be customized with the following apparel decorating methods:
Embroidery
Tackle Twill
Appliqué
Direct to Garment Printing (DTG)
Sublimation
Crooked Brook ships worldwide. Hours of operations are 7:00 a.m. to 7:00 p.m. EST, seven days a week. Reach them at (315) 733-1992 to learn more.