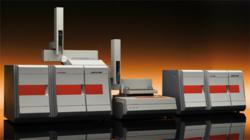 Goshen, NY (PRWEB) February 12, 2013
The multiEA 5000 is equipped with features that focus on flexibility, ease of use, and ease of maintenance. These include a modular design for building the exact configuration to meet your analytical needs, Double Furnace technology that allows for the conversion between horizontal and vertical combustion modes, a Self Check System (SCS) that ensures fault-free analysis of the analytical system, a Flame Sensor that controls the speed of sample introduction to ensure clean and complete combustion, and easy tool-free access to all common maintenance items.
Target markets for the multiEA® 5000 include Renewable Energy, Food and Beverage, and Environmental industries.
Additional application areas for the multiEA® 5000 can be found in the
Petroleum,Petrochemical, and Chemical industries for both R+D and Quality Control environments.
The multiEA® 5000 will be on display in booth #2451 at this years 2013 being held at Pittsburgh Conference and Exposition in Philadelphia, PA, from March 17th-21st.