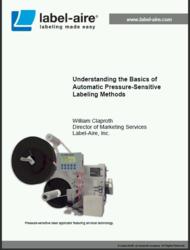 To fit specific products or operational parameters, applicators can have unique designs to best meet the needs of the labeling process.
Fullerton, CA (PRWEB) February 28, 2012
Label-Aire, the innovative company that first brought to the packaging industry 50 years ago the patented "air-blow" concept for applying pressure-sensitive labels, has published a helpful white paper explaining the basics of automatic pressure sensitive labeling technologies.
"Prior to selecting a labeling application method, there are specific factors that must be determined to ensure that the unique characteristics of the application's attributes are considered. Once the information about those factors has been compiled, users can proceed to evaluating the various labeling methods. There are three fundamental types of automatic pressure sensitive labeling equipment: wipe-on, air-blow, and tamp-blow. With a basic understanding of how each labeling application method works, companies can determine which one best suits their needs and implement an optimal labeling solution."
The complete white paper can be downloaded via Label-Aire's website at http://www.label-aire.com.
The following labeling machinery white papers are also available for download from Label-Aire: Vendor Methodology For Labeling Equipment, 10 Tips For A Successful Line, Bar-coding 101, Tips for RFID Smart Label... and many more!
Label-Aire provides simple and cost-effective labeling solutions for any operation. For more information please visit or web site or call 866-384-0700 / 714-441-0700.
# # #