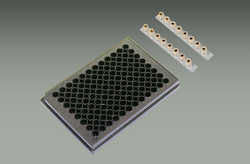 San Diego, CA (PRWEB) February 8, 2010
Silicon Kinetics Inc., the pioneering life sciences tool company which introduced the world's first 3D biosensor surface for label-free biomolecular interaction analysis, announced the availability of three new surface chemistries: NTA-Ni, Protein A and Protein G.
Featuring biosensors with 3D nanoporous silicon chips, Silicon Kinetics SKi Pro™ is the world's only label-free biomolecular interaction analysis platform which allows high throughput ranking in multiwell plates and data-rich kinetic measurements in flow cells, all using the same reader instrument and the same surface chemistry. Available surface chemistries now include: carboxyl, streptavidin, benzaldehyde (a unique covalent surface which requires no activation step) and the newly introduced NTA-Ni for His-tagged proteins, Protein A and Protein G for coupling antibodies. Silicon Kinetics Surface Stabilization Following Indirect Capture of a Binding Partner Application Note
Using silicon biochips coated with its carboxyl chemistry, Silicon Kinetics recently announced measuring very slow off-rates in tight-binding molecules, down to 10 (-6) sec (-1), performance not feasible on biochips read by traditional SPR instruments. Silicon Kinetics Kinetic Characterization of Ultra-high Affinity Antibodies Application Note
About Silicon Kinetics
Silicon Kinetics, Inc. is a privately-held life sciences tools company headquartered in San Diego, California. The Company specializes in instruments for optical interferometry in nano-porous silicon biochips. The SKi Pro™ instrument platform and the 3D SKi Sensor™ biochips are used to detect protein-protein, protein-drug, or protein-DNA interactions in real-time and quantify binding kinetics, dissociation rates, or biomolecular affinity rankings, required for the study of disease pathways and the development and manufacturing of therapeutics. More information can be found at Silicon Kinetics.
###