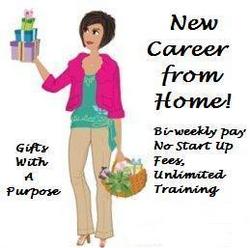 "Let's face it, many women today want to work at home and create an income. However, when they look into a traditional business they soon discover that starting one is time consuming and costly.
Austin, TX (PRWEB) March 30, 2010
La Bella Baskets is a new online resource that educates, trains, supports and empowers its members to start their own online gift basket and flower business from the comfort of their home.
With the opening of their own online gift basket and flower business, members receive individual mentoring, access to our training site, full company support and their own individual virtual stores. The online stores have over 300 gifts and flowers ready for immediate marketing. Women will have the freedom to market their online business within minutes of becoming a member and all without the hassles and large investments of starting a traditional brick and mortar style business.
La Bella Baskets (available online at http://www. LaBellaBaskets.com) was started when a group of successful women entrepreneurs realized that many women were not able to pursue their dreams of owning a business due not only to the huge start-up costs, but also to other hurdles.
With boundless energy and a desire to enable other women the personal freedom to pursue their dreams while enjoying time with family and friends, they shattered the traditional business model. Armed with a vision and a passion to assist women in creating a successful home career, La Bella Baskets was born.
A mentoring program puts women needing assistance in touch with their own personal mentor who provides guidance and motivation. The training program provides marketing and advertising techniques along with personal growth initiatives.
We are a very unique company. We invest in women. Women can now start their own gifting business with a 7-Day Trial which includes unlimited access to the La Bella Baskets website and training for only $1.97 which can help create an additional income using the tools and strategies inside. After the 7-Day Free Trial period, women can continue to enjoy full membership benefits at an affordable $19.95 per month. Portions of the proceeds go to the La Bella Baskets program - Baskets of Hope. Baskets of Hope delivers a basket of essentials to single moms who are experiencing hardships and challenges in life.
Today, this vision and dream continues to take shape across the United States, and driven to new heights by the energy, passion, and focused determination of La Bella Baskets. If you are ready to start a new career that is fun, profitable and affordable call 800-584-5539 or visit http://www.labellabaskets.com.
###