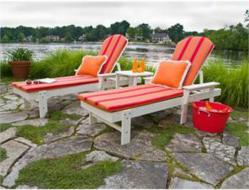 Chicago, IL (PRWEB) August 30, 2012
As Labor Day approaches, Furniture for Patio pays tribute to the contributions of American Made Manufacturers and those customers who continue to support the country by buying Made in the USA products, and they're doing so by offering a one week sale on all patio furniture starting on the 31st of August and ending the following Friday, September 7th. During this week long period, customers will automatically receive free ground shipping on all orders placed, allowing them to save upwards of $300 or more on bigger purchases, and with the use of Coupon Code: LABOR5*, they will be able to receive 5% OFF on their orders. Furniture for Patio is proud to offer so many great products crafted by skilled artisans right here in the United States, and even though the summer is winding down, there's plenty of outdoor enjoyment still left to be had, and it's meant to be enjoyed with some of the highest quality patio furniture on the market today. This Labor Day Sale gives customers a chance to purchase some of the most popular pieces for the 2012 year at discounted prices, and get a jump start on furnishing their outdoor living spaces for next summer.
Boasting a wide selection of patio dining sets, bar sets, sectionals, and more, FurnitureForPatio.com has quickly become a one stop shop for a variety of outdoor furnishing needs and is living up to their slogan, "Your Source for Outdoor Living" by continually providing new products and consumer favorites all year round. This week long Labor Day Sale is a great time to check out all they have to offer, and new customers to the site will fast realize why Furniture for Patio has become one of the best online stores for quality furniture and decorations complete with stress-free customization options on all products. The company prides itself on being able to meet trends and demands within the furniture industry, which is why they carry a wide selection of complete sets and individual pieces across a variety of styles, materials, and color options.
Outdoor dining and lounging are at the forefront of what customers are using their patio space for, and FurnitureForPatio.com has dining sets in different sizes and shapes, that feature wicker chairs, aluminum frame chairs, eco-friendly plastic chairs, and more. Whether a family of 4 sitting down to a meal, or a large dinner party of 8 or more people, Furniture for Patio has the right dining set for you and many come with color customization options as well as the option to add cushions for extra comfort. Another trend that has grown over the years is transforming the patio space into a fully functional oasis of relaxation that would rival the plush comfort and style of any interior room. Patio lounges can be created from a number of Deep Seating and Sectional options found at FurnitureForPatio.com, all of which feature weather-resistant cushioning that will have you sinking into serenity never wishing to get up. Sectionals are especially popular with today's patio enthusiasts as the modular seating can be used to create a seemingly endless amount of seating arrangements, allowing one set to have nearly limitless possibilities when it comes to decorating an outdoor space. During this Labor Day Sale, customers can receive free shipping on ALL dining and lounge related products, and with the coupon code LABOR5* they'll be able to also save by scoring 5% OFF on their purchases.
For those customers who are done with summer and looking forward to the fall, Furniture For Patio has a great selection of outdoor Fire Pits which can be used year round, but are especially ideal for cooler weather environments. Capturing the warm ambiance and feeling of togetherness that comes from being around a fire without having to deal with the pain of starting a fire or the uncomfortable feeling of smoke or ash blowing in your face, these luxury Outdoor Fire Pits are a stylish means to enjoy the outdoors well after the sun has set. Customization options for these fire pit tables, which range from chat height to counter/balcony height, give the customer a chance to create a fire pit unique to their own backyard with choices like hearth top color and material, base frame color, and even the fire pit accessories are customizable with items like glass rocks to create a dancing frame, or traditional looking ceramic logs. FREE Shipping on these varying heights and styles of fire pit tables is savings worth celebrating, and fire pit tables are a piece of outdoor furniture that can be used all year long and can even be converted into beverage coolers during warmer months.
Hi-Top Patio sets in counter or bar height, chaise lounges for poolside relaxation, sling seating, deep seat cushions, patio umbrellas, porch swings, swivel rockers, home and garden decor, it's all at Furniture for Patio and ordering between August 31st and September 7th gives you FREE shipping on ALL purchases of ALL products. In addition, entering Coupon code: LABOR5* will give you 5% OFF, making your Labor Day savings that much better as well as making Furniture for Patio's selection of high quality affordable furniture that much more affordable.
Offering a safe and secure online shopping environment that is backed by a one million dollar guarantee, Furniture for Patio provides great flexibility in the online ordering of furniture, allowing sets and individual pieces to be customized to a customer's specifications. Visit http://www.furnitureforpatio.com to take advantage of the Labor Day Sale and browse the wide selection of great products, many of which are proudly made in the USA. Orders must be placed between Friday August 1st and Friday September 7th 2012 to qualify for FREE shipping.
*Some manufacturer restrictions may apply when entering coupon code. Not valid on previous orders.