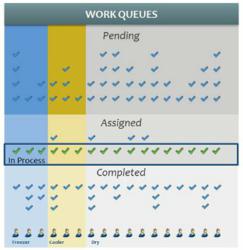 The labor performance metrics you want to see in a live dashboard.
Germantown, MD (PRWEB) January 31, 2012
Syntelic's Smart Labor Planning and Live Execution modules that make up the company's 3-Step Outbound Warehouse solution, now boast a slick Microsoft Silvertlight user interface. The new user interface makes it easier than ever to set up dashboards to monitor selection and loading tasks across all areas in a busy DC.
"Syntelic's labor management solution is a powerful productivity tool," says Syntelic VP of Sales and Marketing Scott Balthaser. "Our live execution dashboard lets managers monitor in real time how all selection and loading tasks are being carried out by individual workers. They can intervene to reassign work if needed to stay on schedule, or to optimize labor. Rather than seeing what happened after the fact in a report, real-time performance monitoring prevents dips in productivity, and that impacts the bottom line."
Syntelic tracks both direct labor, such as picking and loading of product, and indirect labor such as bathroom breaks. The software can use labored standards "engineered" based on an industrial engineer's measurements or it can create benchmarks from historic data. Because labor standards for the same task may differ among different DC locations (for example because aisle distances differ), Syntelic can account for these differences to provide more accurate standards for geographically dispursed organizations. This is an important consideration when implementing performance-based incentives.
###