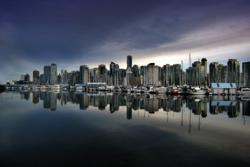 Employers want to attract the best talent and to do so they need to take care of them and their families every step of the way.
Vancouver, British Columbia, Canada (PRWEB) May 02, 2012
The Canadian Employee Relocation Council (CERC) released a report April 16th concluding that the greatest solution to Canada's skilled worker shortage is increased labor mobility. In an effort to first attract talent from within Canada, federal and provincial bodies are eliminating barriers to inter-province mobility. As each barrier is removed, more employees are relocating across country to new opportunities, filling previously unfilled demand for skilled workers.
CERC indicates that opportunities are wide open for supervisory roles in the mining and oil and gas industries, making the province of Alberta an attractive destination for those that fit the bill. As well, vacancies are projected to exist for Senior Level managers in all major industries in Canada. To accommodate this demand, corporations are going to have to make the ease of employee household relocation a number one priority, to attract the best candidates that may come with families attached.
Great Canadian Van Lines has been in the employee household relocation business for decades and has seen the trend increase throughout the years. GCVL President Mark Valliant comments on the trend: "Making a life changing decision such as relocating to another province is a big step. Great Canadian Van Lines continues to do everything it can to enhance labour force mobility efforts in Canada. Employers want to attract the best talent and to do so they need to take care of them and their families every step of the way."
The Province of B.C.'s Employee Relocation Services branch has congratulated the efforts of Great Canadian Van Lines and maintains its presence on the company's testimonials page. GCVL encourages employers to further review information on Corporate Relocation.
ABOUT Great Canadian Van Lines
Great Canadian Van Lines was incorporated in Alberta in 1990, and the Head Office of the company was relocated to the Vancouver area in 1992. From its founding day, Great Canadian saw a consumer demand for change in the industry and focused on three issues:
1) Better Value – a simpler Tariff and better rates and service for long distance moves.
2) Transit Times – more direct routes, and shorter transit times.
3) Reduction in Claim Ratios – Valuation Premium. Drivers are 100% responsible for any damage they cause, and are paid the Valuation Premium when there is no damage.
Better Value, Transit Times and Low Claim Ratios are what differentiates Great Canadian Van Lines from other national Canadian van lines. We developed our business on these principles in the late 1980s and continue to operate our business with them today.