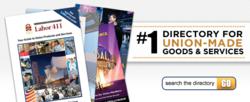 "Labor 411 makes it easy to make ethical consumer decisions," says Tim Paulson, Exec. Director of the SF Labor Council.
California (PRWEB) August 30, 2012
"This Labor Day, give your money the muscle to help rebuild America's middle class," says Cherri Senders, Founder of Labor 411. "Labor 411, the nation's leading online and print directory of union-made goods and services, has a simple premise: money is power. How you spend yours can make a difference for our country, our communities, our families and our friends. By purchasing goods and services made by companies that provide fair wages, safe working conditions and access to health care, you are helping protect and grow America's middle class and joining the ethical consumer movement."
Labor 411 is proud to announce the launch of its San Francisco site, the first step in a nationwide expansion. (SF site goes live Monday, September 3 at 6am PST, beta site available to media).
"Labor 411 makes it easy to make ethical consumer decisions," says Tim Paulson, Executive Director of the SF Labor Council. "It's a perfect fit for a progressive city like San Francisco. We are happy to welcome Labor 411 to the Bay Area, so our residents can feel empowered as shoppers to know that the ordinary things they buy – food, tires, even beer – are made by Americans earning good wages and benefits. Together we are rebuilding America's middle class."
Labor 411 includes more than 3,700 nationally-available consumer products and services in a range of categories including food, beverage, hotels, recreation and entertainment, automotive, health care and many, many more. Whether it's for planning a barbeque, shopping for clothes or just buying the basics like toothpaste, Labor 411 makes sure consumers' money is well spent in a way that benefits all Americans. That's power to the purchase.
Kick of Labor Day with an All-American Golden Mojito: The Cocktail with an Economic Punch
2 oz el Jimador Tequila
1 tbsp. of Sugar in the Raw
1 oz Fresh lime juice
3 oz Canada Dry club soda
4 - 5 Fresh mint leaves
Muddle mint leaves in a tall glass. Add tequila, lime juice and sugar. Stir, then add club soda and ice. Enjoy, knowing this beverage is helping to rebuild the middle class. That's refreshing.
For more information or to interview the Labor 411 founder, contact Gina Quinn at 323-574-7534, gina(at)sendersgroup(dot)com, http://www.labor411.org.