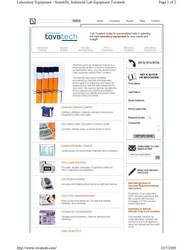 South Orange, NJ (PRWEB) October 12, 2009
A new interactive, user-friendly website is now posted by Tovatech LLC , which since 2005 has been a specialist in distributing equipment used in pharmaceutical and healthcare facilities, and to support maintenance, manufacturing and quality control requirements across a broad spectrum of industries in the US, Canada and Mexico.
The new website for Tovatech laboratory equipment provides in depth information on five major product lines:
(1) Elma ultrasonic cleaner products for electronics, medical instruments, automotive and industrial degreasing, and laboratory applications;
(2) Norlake laboratory refrigerator and freezer models, including both full size and undercounter refrigerators and freezers for safe storage of vaccines and blood plasma; Nor-Lake environmental chambers;
(3) Kern digital scales including laboratory and industrial scales; analytical balance models for precise weighing and counting;
(4) Kern moisture analyzer for quality control in food, plastics, wood, paper and other manufacturing operations;
(5) FlowCal 5000 HPLC flow meter for calibration of the liquid flow rate of any model HPLC.
Search functionality helps the visitor navigate to full information on these and other products or topics of interest.
Every detail on the new website has been carefully thought out to educate visitors on the features and benefits of Tovatch's broad range of offerings and to provide a forum for discussing ongoing developments across the many industries the company serves. Examples include the importance of proper storage for vital vaccines, tips on specifying the correct moisture analyzer, and duplicating perfect results for ultrasonic labware cleaning.
Users ranging from analytical chemists in pharmaceutical labs to service engineers in an automotive shop depend on world-class customer service from Tovatech, a company staffed exclusively by chemists and engineers. Tovatech's goal is to make customers' jobs easier by responding quickly, taking the time to discuss technical problems, and helping to identify the products that will best meet their needs. Orders are handled promptly. Products are warranted to meet the manufacturer's specifications for a term equal to the warranty period stated in the product manufacturer's literature.
About Tovatech LLC
Tovatech LLC is a distributor of laboratory equipment to the US, Canada, and Mexico. The company specializes in digital scales, ultrasonic cleaners and pharmaceutical laboratory equipment. Tovatech is staffed entirely by scientists who seek to aid other scientists in selecting the right laboratory instruments for their work.
Contact: Rachel Kohn, Director
Tovatech LLC
Telephone: 973-913-9735
# # #