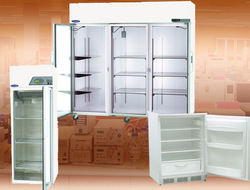 South Orange, NJ (PRWEB) June 18, 2008
Tovatech LLC announces a comprehensive line of Laboratory Refrigerators, Laboratory Freezers, and Environmental Chambers from Nor-Lake. These range in size from undercounter refrigerators to huge triple door units. Each unit is designed for a specific purpose: blood storage, plasma freezer, pharmaceutical refrigerator, stability testing and laboratory incubation chambers. Norlake Refrigerators and Environmental Chambers cover the whole gamut of scientific and laboratory storage and environmental control needs.
For blood bank and plasma applications, Nor-Lake refrigerators and freezers lock for security and meet all applicable industry standards. Undercounter and large two- and three-door units all include the same premium features necessary for critical blood storage.
Specialty units such as flammable storage refrigerators, enzyme freezers, or very low temperature freezers offer features tailored specifically to that application: locks, alarms, manual defrost to eliminate automatic temperature cycling. The chromatography refrigerators provide easy access for set-up and operations and improved air-flow for the fastest temperature recovery in the industry.
Routine and heavy-duty laboratory storage units are designed to minimize the effect of door openings and changing loads. All units are environmentally responsible without CFCs and many are Energy Star qualified.
Stability chambers for pharmaceutical and biological applications meet the most stringent requirements for drug stability testing or BOD applications. For biotechnology, tissue cultures and other microbiological studies, the Norlake incubators offer the same premium temperature control available in their refrigerators. Some models come with both humidity and temperature control.
For safe, reliable storage of critical samples, Norlake offers laboratory refrigerators that may be used in life science, medical, chemical, clinical and industrial applications. With a unit for every size lab or blood bank and features to suit the specific demands of individual applications, Norlake Refrigeration and Environmental Control Equipment offers solutions for virtually all laboratory storage needs.
________________________________________
About Tovatech LLC
Tovatech LLC is a distributor of laboratory equipment - from an analytical balance or moisture analyzer to hplc flow meters and ultrasonic cleaner equipment for industry and laboratory. Tovatech is staffed by scientists who seek to aid other scientists in selecting the right laboratory instruments for their work.
###