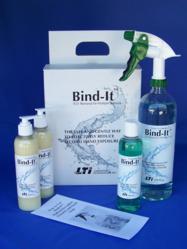 For the first time RAI patients can clean their home isolation areas with the same products hospitals use.
Maple Park, IL (PRWEB) May 24, 2011
The use of radioactive iodine (RAI) in the treatment of thyroid cancer and hyperthyroidism is very common in the United States. Most often RAI is an outpatient procedure, and the radioactive patient goes directly home after swallowing the radioactive iodine in capsule or liquid.
Special precautions must be followed by the patient to minimize the risk of second hand exposure to family members and the public. Pregnant women and children are especially cautioned against the effects of second hand exposure. Radioactive iodine may enter a person's body by mouth, eyes, nose or even absorbed through the skin.
Most people don't deal with radiation often, so they naturally have a limited knowledge about it. One of the biggest mistakes people often make is using a strong disinfectant (like bleach) to clean up residual radioactive iodine. Radioactive iodine is not a virus or bacterium. It cannot be disinfected, it must be decontaminated. In fact, bleach is known to cause radioactive iodine to volatilize into a gas. In gaseous form, the radioactive iodine can travel well beyond the original contamination area and even be inhaled by others in the home.
Proper precautions and cleaning of contaminated surfaces and skin are necessary to reduce second hand exposure to others. Surfaces which are commonly contaminated in the home can include: toilets, sinks, showers, bathroom floors, rugs, clothing, towels, bedding, doorknobs, tv remote controls, computer keyboards, telephones, etc. Anything that a treated patient touches may become contaminated.
For over 20 years Bind-It products have been used by laboratories, nuclear medicine departments and nuclear pharmacies to decontaminate their facilities. Bind-It products are engineered to attract, bind and trap RAI so it can be safely disposed of.
Bind-It works on most surfaces and skin. It is safe and gentle enough to be used anywhere contamination may be present.
After receiving a number of calls from patients concerned about contamination at home, this prompted LTI to develop Bind-It patients kit. The new patient kits are ideally sized for individual use at home. By following the included instructions, Bind-It products can significantly reduce second hand exposure to family and friends by removing the contamination. Removing contamination minimizes the chance of accidental ingestion or absorption by others.
About Laboratory Technologies, Inc.
Since its founding in 1983, Laboratory Technologies, Inc. has been designing and building nuclear counting instrumentation, calibration sources and Bind-It™ decontamination products. Millions of samples of radioactive iodine have been counted on our instruments around the world. Laboratories, research centers, nuclear medicine departments and nuclear pharmacies are our main customers.
# # #