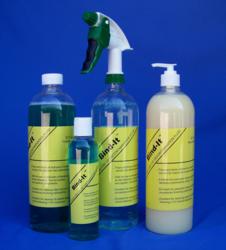 Maple Park, IL (PRWEB) May 31, 2011
For almost 20 years customers have relied on Bind-It spray, concentrate and hand soap to keep their fume hoods, work benches gamma counter wells and isolation rooms clean.
Hospitals with patient isolation rooms have a difficult job to decontaminate following a patient's stay. Anyone who has tried to decontaminate I131 with a general purpose decontaminant knows that it is an almost futile effort. Broad spectrum decontaminants just do not work on radioiodine. Most are made to remove metallic ions. Iodine is not a metal. General purpose radioactive decontaminants simply push radioactive iodine around and spread the contamination, rather than actively remove it.
Bind-It products are made specifically to remove radioactive iodine. Whether it is I125 or I131, Bind-It is the most effective, safe and convenient way to bind, trap and allow removal to bring the isolation room, work bench or fume hood to background levels quickly.
Several hospitals have found that pre-treating areas where the highest contamination is likely to occur makes removal even easier. Washroom floors (especially tile grout), toilets, etc. can be sprayed in advance of patient use. The contaminating I131 will bind to the cleaner already dried on the surface and keep porous surfaces contamination free.
Bind-It decontaminant products have a mild, pleasant fragrance, which also makes them ideal for home use. Our Patient Kits are designed to be used by people receiving I131 treatments once they return home. This allows them to reduce second hand exposure to family members in a convenient way.
Many of our institutional customers who regularly use Bind-It to clean isolation rooms have asked for new sizes to make it more convenient for them. Therefore, we have now added a 32 ounce concentrate.
About Laboratory Technologies, Inc.
Since its founding in 1983, Laboratory Technologies, Inc. has been designing and building nuclear counting instrumentation, calibration sources and Bind-It decontamination products. Millions of samples of radioactive iodine have been counted on our instruments around the world. Laboratories, research centers, nuclear medicine departments and nuclear pharmacies are our main customers.