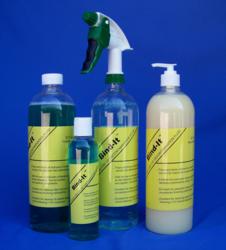 I don't think people realize how easy it is to spread contamination
Maple Park, IL (PRWEB) September 27, 2011
In the EMPEC (European Medical Physics and Engineering Conference) presentation, it was shown to physicists and nuclear medicine personnel how Bind-It is being used to achieve positive and rapid decontamination of hospital isolation suites. Bind-It is a multi-surface decontaminant that is used to clean floors, walls, sinks, toilets, door handles, bed rails, etc. Pre-treating hard to clean surfaces and allowing Bind-It to form a thin film has been shown to make decontamination of those surfaces even easier.
Laboratory Technologies, Inc. provides hospitals, laboratories, nuclear pharmacies and now thyroid ablation patients with the most effective tools to safely and easily remove contamination from radioactive iodine.
Hospitals know how difficult radioactive iodine can be to clean up. Using most general purpose radioactive decontaminants only "pushes" the radioiodine around - they don't actually remove it. Bind-It works by trapping the I131 in solution, so that it becomes easy to remove.
Bind-It has a pleasant smell, is not harsh or corrosive, and can even be used on sensitive NaI(tl) detectors and survey meters. Bind-It will not fog or discolor leaded glass, so it can be used to clean fume hoods, L-Block shields and syringe shields with complete confidence.
Contamination caused by patients excreting radioactive iodine has been well documented in hospitals which have isolation rooms. Bind-It makes the decontamination process quick and therefore inherently safer as it leads to less exposure by hospital personnel.
Recently, in response to growing patient interest and demand, Laboratory Technologies, Inc. developed Bind-It Patient Kits. The kits are designed for patients to use at home to clean and decontaminate their isolation area. Exposure to contamination in the home can lead to internal uptake by family members. By eliminating contamination from the washroom and bedroom, the environment is safer for children and pregnant women once the patient leaves isolation.
Since 1983, Laboratory Technologies, Inc. has been designing, building and supporting a range of nuclear counting instrumentation. Genesys gamma counters, Wiper and Multi-Wiper well counters and Bind-It are used in thousands of facilities all over the world.
# # #