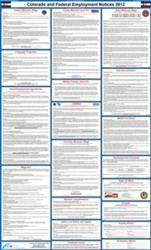 New Minimum Wage Change!
Los Angeles, California (PRWEB) October 21, 2011
State and Federal Poster Inc. warns Colorado businesses that their will soon be a minimum wage change on the State and Federal Labor Law Posters. These postings will need to be updated as soon as possible. If not, there will be a fine that may cost a lot of money. Colorado is one of the states of 2012 that will have this minimum wage change so it is important to update the posters.
State and Federal Labor Law Posters are now required to come with the National Labor Relations Act poster which is a new act that has just recently been passed. This new act informs employees of their rights to join together. Employees have the right to form, assist, self- organize, or to assist in any organizations through collective bargaining with representatives of their own decision with mutuals aid or protection, and also they will have the right to refuse from any or all such activities engaging through collective bargaining.
###