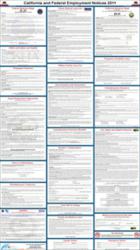 Recommended for all big companies to update their postings about the new NLRB act.
Los Angeles, California (PRWEB) September 03, 2011
State and Federal Poster Inc. advises local business owners on the new National Labor Relations Board rule that will soon take place. The National Labor Relations Board affirmed a proposed rule requiring private sector employers to post notices in their workplaces advising employees of their rights under the National Labor Relations Act. This new rule change requires employers to post a notice of employees' rights, and communicate National Labor Relations Act rights electronically such as email or internet. When the National Labor Relations Board's new rule takes effect it will apply to most private sector employees.
Many rights will be changed and included such as the right to organize a union to negotiate with an employer involving wages, hours and other terms and conditions of employment or the right to create, associate or support a union. Also it will be illegal for and employer to guarantee or present promotions, pay raises or other profits to discourage or encourage union support. Threatening to take any kind of action against an employee for accompanying or promoting a union, including firing, transferring, reducing hours or changing the employee's shift will not be allowed.
###