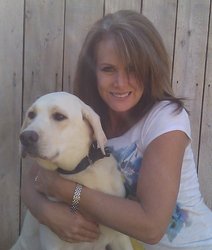 Simi Valley, CA (Vocus) November 10, 2010
Accredited Labrador breeder, Susana Labradors, is so proud of their Studs that they were once kept exclusively for breeding within Susana Labradors choice lines and kennels. However, in an excited new development, Susana Labs is now offering their AKC Labrador Stud Services to approved females outside their lines. This is a rare opportunity and one that should be considered a privilege to boast about.
Susana Labradors takes great pride in the quality of the studs they use for breeding and use only males that are Champions or from Champion bloodlines. All of the Studs at Susana Labradors are Registered AKC Labrador Retrievers and certified for OFA, OFEL and CERF clearances.
In addition, the quality, temperament and health issues have been perfected – it's obvious when you look at the bloodlines in the many Champions that they've achieved in their pedigrees. Also, because Susana Labs raise their studs in their home and balance their diet and exercise to keep them in top athletic condition, the type of dog that they breed are more mellow tempered family pets with stocky, blockier appearances that live up to the Lab breed standards.
Susana Labradors is proud to provide their top-tiered males for this breeding opportunity; however, only the choicest females will qualify. For a natural breeding Susana Labs requires all females to have a brucella test 10 days prior to breeding to ensure that the female Labrador is not harboring a venereal disease that could potentially make the male sterile. They also require the female to have her progesterone tested by a qualified veterinarian to give them an exact breeding date based on the female's progesterone level. Lastly, they require proof of OFA certification on her hips.
Susana Labradors is excited to share their accredited kennel lines that they have spent years developing out of Champion stock, giving other kennels an opportunity to approve their blood lines. By choosing Susana Labradors for your breeding purposes, you will have their Champion titles passed down through blood lines onto your Labrador puppies, thus improving the pedigree and the look and the style of your dogs and dogs to come.
Susana Labradors located in Simi Valley, CA near Los Angeles, is a California Labrador Breeder expert in owning, breeding, training and raising unparalleled Fox Red, White, Yellow, English Cream and Black Labradors to pristine specifications. Visit their website as they have featured all of their Certified AKC Labrador Studs individually in movement along with pedigree and health certificates. (http://www.susanalabradors.com/Our_Labrador_Studs.shtml)
###