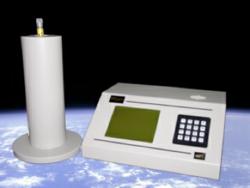 Maple Park, IL (PRWEB) June 14, 2011
Laboratory Technologies, Inc. announces its Wiper nPhD professional grade wipe test and well counter.
Isotope purity has been difficult to verify in the past. By utilizing a 4096 channel analyzer, the Wiper nPhD offers high resolution spectral analysis to provide a near instant assessment of any sample. High count rate capability of up to 300,000 CPS makes quality control of a wide range of samples possible without the need for tedious dilutions.
Correcting for decay of short lived isotopes has always been difficult. Automatic, on-the-fly forward and reverse decay correction, as well as an on-board decay calculator eliminates off-line decay calculations and variable count time planning. Time will be saved and all samples in a large batch can be counted with the same statistical accuracy, regardless of isotope decay.
Determining absolute activity (DPM) has historically been difficult when sample volumes vary. Unless corrections for volume difference are considered, errors will result if the volume of a sample differs from the volume of the calibration source. The Wiper nPhD incorporates a unique volume correction protocol that eliminates the error associated with varying volumes.
The Wiper nPhD is the first and only wipe test well counter that is designed specifically for the needs of the nuclear pharmacy, PET cyclotrons, and other highly demanding users whose needs are not adequately addressed with a standard nuclear medicine well counter.
The Wiper nPhD joins the Wiper family which includes the Wiper 100, the Multi-Wiper and the Multi-Wiper HE. The complete Wiper family addresses the needs of diversified users ranging from routine to the high volume department needing to count multiple wipes simultaneously.
With a service network of over 300 field technicians, on the rare occasion that repair is needed, help is never far away. With an available 5 year warranty you can be carefree for a long time.
About Laboratory Technologies, Inc.
Since its founding in 1983, Laboratory Technologies, Inc. has been designing and building nuclear counting instrumentation, calibration sources and Bind-It™ decontamination products. LTI is the only manufacturer in the world to produce highly effective Bind-It Patient Kits that help thyroid patients protect their families from second hand exposure to radioactive iodine. Laboratories, research centers, nuclear medicine departments and nuclear pharmacies are our main customers.
###