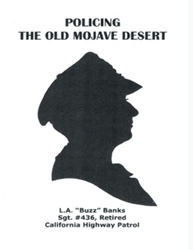 CHINO HILLS, Calif. (PRWEB) October 13, 2014
Diverse and unexpected stories of a popular California Highway Patrol (CHP) officer come to life in L.A. "Buzz" Banks' memoir, "Policing the Old Mojave Desert" (published by Lulu).
A large portion of the Mojave Desert is covered by Route 66 in Southern California. In the late summer of 1941, Banks was assigned to Victorville as a state traffic officer of the CHP.
Banks joined the CHP at a time when officers were expected to be on their own – resources were limited, technical support was virtually nonexistent, and officers relied on their common sense and their own judgment.
This collection of 30 vignettes recounts memorable, true incidents from Banks' early experiences as a CHP officer. He honed his writing skills writing accident reports, his diary and published magazine articles. Recognizing the value of his unique experiences, he set out to share them in this unique new book.
Encounters that emerge in "Policing the Old Mojave Desert," introduce readers to a famous WWII general, an iconic test pilot, a deranged doctor, a bizarre German spy, a sharpshooting sheriff and a kind baker, to name a few.
"This is a book you will want to keep," Banks said. "It is more than police stories, it reveals a part of our past which few people knew existed."
"Policing the Old Mojave Desert"
By L.A. "Buzz" Banks
E-Book | ISBN 9781483413150
About the Author
L.A. "Buzz" Banks was a native Californian. His grandfather was an LA police commissioner and lithographer, producing the first road map of California, Thorpe's Illustrated Road Map in 1908 and 1910.
Lulu empowers people of all ages to explore and express their interests, passions and expertise through books, photography and art. Since introducing self-publishing in 2002, Lulu has empowered creators in more than 225 countries and territories to produce nearly two million publications. Lulu Jr. allows children to become published authors, encouraging creativity, strengthening literacy and building self-esteem. Picture.com offers professional photography of collegiate and professional sports, memorable and historic events, fine art and home décor. For more information, please visit lulu.com.