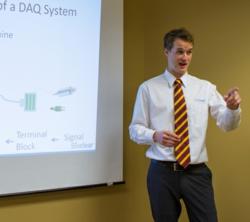 "The full online course now goes to all students in the classroom, even if they only come for half a week."
Austin, Texas (PRWEB) October 31, 2012
Sixclear, a National Instruments Alliance Partner, splits its classroom LabVIEW training into two courses, combined with the full online course, to reduce cost and time required for students.
Sixclear has been in the LabVIEW training business for almost four years. Its online training course was released in January of 2010, followed later that year by week-long instructor-led courses on-site at customers' facilities. Earlier this year, regional courses were rolled out at venues hosted by the training company.
"Coming to a regional course is like landing at Ellis Island," says Jassem Shahrani, Sixclear President. "Students gather from across the nation and abroad, from different companies and industries, with all kinds of technical backgrounds."
Shahrani maintains that the students tend to learn as much from each other as from the instructor.
"We still are the lowest-cost provider for instructor-led LabVIEW training on the market," states Shahrani. At $1999 per student for the week of training, Shahrani's claim holds water, especially as the online version of the course -- containing the same curriculum as the classroom course -- is given to the students to review and expand upon for the next 6 months.
Shahrani continues: "However, that cost is still out of reach for many users. Plus, it's often difficult to take a full week off work."
To that end, Sixclear is now offering the 5 day course in two parts: 3 days of Sixclear Lucid LabVIEW Fundamentals I and another 2 days of Fundamentals II.
"Our biggest hangup for not rolling this out sooner was our experience of teaching LabVIEW over the past decade. Students may sign up just for the second half of a basics course, only to come in entirely unprepared and struggle through it in frustration. Or they only have time for the first part, and so get the bare bones of LabVIEW, but return to work expecting to contribute and realize they're still missing vital knowledge."
Shahrani explains how Sixclear addresses this by giving the full online course to all attendees, even if they only come for half a week. Online access is granted as soon as students book the course, so they can start before they show up.
"Now, if you just take Fundamentals II, there's no need to wonder if you're ready. Just look over the online course and you're up to speed. And if you're only taking Fundamentals I, you won't miss crucial sections in Fundamentals II like data acquisition, instrument control, or building and distributing executables."
Shahrani invites users to try out the new format at the next regional course in Madison, WI on November 26, or Austin, TX on December 3.
About Sixclear
Founded in Austin, Texas in early 2008, Sixclear is a development and integration company offering LabVIEW training, development, integration, and consulting in the automation, test, measurement, and data acquisition space. Sixclear has the only fully self-paced online LabVIEW training in the world.