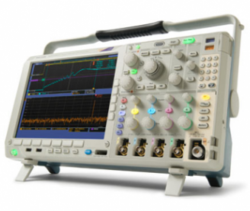 Having a video tutorial walk the user through the scope setup process and into programming some simple code is invaluable.
Austin, Texas (PRWEB) February 02, 2012
Sixclear, an Austin LabVIEW training and development company, publishes a free set of videos demonstrating how to get started programming a suite of Tektronix oscilloscopes in LabVIEW from a PC.
In 2011, Tektronix released the new MDO4000 Mixed Domain Oscilloscope Series with a built-in RF Spectrum Analyzer. The scope, typically used as a standalone test device, can also be controlled externally by a computer running a programming environment.
"For 25 years, LabVIEW has been programmatically controlling test equipment like Tek's new MDO4000 Series scope" explains Brian Spears, head of Sixclear's video instruction. "Quite commonly, we see LabVIEW automating an entire suite of devices at once, and when the new piece of equipment comes in, someone has to learn how to program and integrate it with the rest of the application."
Luke Graham, Tektronix Consulting Account Manager, describes his customers, "Even though we tell our new users that the scopes can easily by programmed with LabVIEW, they're still hesitant. They've heard that before with other programming languages. Having a video tutorial walk the user through the scope setup process and into programming some simple code is invaluable."
Sixclear and Tektronix collaborated to develop the tutorials to program the DPO/MSO/MDO 2000 or 4000 Series scopes, of which the MDO4000 Series is the newest addition.
Spears gives an overview of the tutorials: "The set of four tutorials first walks a user through installation of the driver, explores the driver structure, looks over example programs, explains how the scope is recognized and configured with the NI-VISA driver, shows how to configure and acquire single and multiple channels, demonstrates how to save waveforms and set up triggering, and finally how to acquire off the digital logic channels and the RF channel."
The free tutorials can be accessed at sixclear.com/tek. The high-resolution videos are delivered in the Sixclear LabVIEW Fundamentals training environment. The first few minutes of a low-resolution preview can be viewed at episode 20 of Sixclear's LabVIEW video blog: VI High.
Spears continues, "So if you come and view the Tektronix videos you will also have access to the Sixclear LabVIEW Fundamentals Test Drive course if you choose, always free with no obligation to buy."
Spears reports the next set of video tutorials, on the Tektronix DPO7000 Series oscilloscopes, is already under development and will be added shortly.
About Sixclear
Sixclear is an Austin, Texas based LabVIEW training and development firm with products and services ranging from professional online and onsite LabVIEW training, to configurable data acquisition and instrument control software solutions, custom development, integration, and consulting services. Sixclear has the only comprehensive, modern online-onsite LabVIEW training combination in the world. Visit sixclear.com for more information.
###