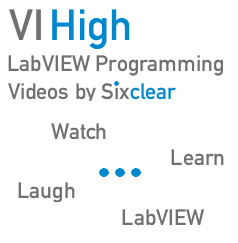 watching a video of someone programming in LabVIEW is simply the most intuitive way to learn
Austin, TX (Vocus/PRWEB) February 02, 2011
If you were searching online for how to add color to LabVIEW toward the end of last November then you may have already come across it: a LabVIEW programming video blog called VI High (blog.sixclear.com). Brian Spears, a former National Instruments engineer and co-owner of Sixclear explains: "We've been providing video training for LabVIEW for about a year now and the feedback has been outstanding.
LabVIEW is a graphical programming language, and watching a video of someone programming in LabVIEW is simply the most intuitive way to learn." Spears goes on to explain that the new VI High series is composed of quick analyses and demonstrations of certain programming techniques, concepts, or features. "Most of our episodes are a direct response to a customer question that can be generalized for the benefit of our customers and the worldwide LabVIEW community."
A variety of topics have been featured, such as events, property nodes, references, subVI refnums, usability, CLAD exam preparation, shift registers, indexing, and new features in the latest version of LabVIEW.
Describing the tone of VI High, Spears says: "It's meant to be fun, even funny. I told my Mom about it, and now she laughs when I'm around. I suppose it's weird to bring up my Mom in a press release. I guess I would agree with that."
When asked about the distinction between the paid Sixclear LabVIEW Fundamentals Course and the free episodes of VI High, Spears explains: "The LabVIEW Fundamentals Course is over 35 hours of recorded content integrated with manuals and solution code designed to bring a user from little to no LabVIEW knowledge up to power programming, though we have had several experienced users take our course to round out the edges of their LabVIEW education." Spears contrasts this with VI High: a series of discrete topics covered in typically less than 5 minutes. These mini-lessons serve well as an introduction to a topic or a brief refresher, but don't go into the background, use cases, or caveats of a topic like the full course.
"Sometimes however", Spears adds, "a quick demo is all you need!"
Signing up to receive VI High email updates can be done by going to the signup link at the top of Sixclear's website.
About Sixclear
Sixclear is a LabVIEW training and development firm in Austin, TX with products and services ranging from professional online and onsite LabVIEW training, to configurable data acquisition and instrument control software solutions, custom development, integration, and consulting services. Sixclear has the only comprehensive, modern online LabVIEW training solution in the world. Visit http://www.sixclear.com for more information.
###