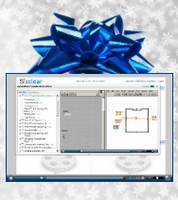 The online/onsite package allows users to learn LabVIEW in the instructor led format onsite at their own company, and then have the same content available online to review as they develop their own code throughout the next year
Austin, TX (Vocus) November 24, 2010
Sixclear has been struck by the holiday spirit in its offering of the first across-the-board discount for the LabVIEW Fundamentals course. According to Brian Spears, a former National Instruments engineer and one of Sixclear's founders: "We here at Sixclear were enjoying some warm nog one frosty Austin evening while discussing what the holiday season was really all about: LabVIEW. We realized that there's no greater gift humankind can bestow one to another than the gift of LabVIEW learning."
Through the end of 2010, when users purchase LabVIEW Fundamentals Online they will automatically receive an upgrade from the normal 6 months to a full year, a $200 value. Users that purchase the onsite course with the online add-on will also experience the same full year upgrade. "The online/onsite package allows users to learn LabVIEW in the instructor led format onsite at their own company, and then have the same content available online to review as they develop their own code throughout the next year", points out Spears.
Says Spears: "We are aware of the oftentimes pressing need to spend end of year budget along with a requirement to provide continuing education and employee development. Our LabVIEW Fundamentals course is an attractive option to reward your staff with LabVIEW training that literally keeps giving all year round."
About Sixclear
Sixclear was founded in 2008 and is based in Austin, Texas. Its founders have extensive experience in the use and instruction of LabVIEW as well as the development of online training curricula. Sixclear was formed to bring a broad working knowledge of LabVIEW to its worldwide user community while building LabVIEW development and integration projects for academic and commercial customers. For more information on the Sixclear LabVIEW Fundamentals Course or Sixclear the company, please visit:http://www.sixclear.com.
LabVIEW is a trademark of National Instruments Corporation.
###