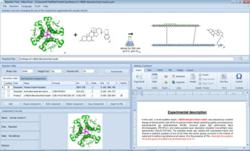 Do you still go with your old booklet into the lab? Do you still waste time on disabled functions of trial or free ELN software?
Budaors, Hungary (PRWEB) February 13, 2013
Sysment Ltd., an ELN-provider targeting mainly SMEs and small/medium sized labs in chemistry and pharmaceutics, kicks off a year starter sale on 11 February, 2013. During this time Sysment offers 50% discount on Sysment Notebook (ELN) and System Reaction Tool (reaction editor).
Sysment's electronic laboratory notebook (ELN) and reaction editor products can be the right choice for small and medium sized firms and labs of the chemical and pharmaceuticals industry and academic research groups in organic chemistry looking for affordable and easy-to-use lab work documentation and management software.
Sysment Reaction Tool is a handy but powerful desktop reaction editor application capable of separate resizing of reaction components and containing automatic calculation based on stoichiometry. It can also be used as a mini ELN system, since chemical reactions with all additional information can be stored in files and in databases as well. For more information, visit http://www.sysment.com/reactiontool.
Sysment Notebook is a modular, configurable, web-based electronic laboratory notebook application that makes experiment documents (including different kinds of components as molecules, proteins, images and texts) generally available via internet browsers with browser and database independency. More information at http://www.sysment.com/notebook.
Both of the applications are freely available for a one month test period via Sysment's homepage and can be purchased at a 50%-off price during Sysment's actual sale until 24th of February.
About Sysment Ltd.
Sysment is a company for software development and consulting services in cheminformatics, specialized in creating electronic laboratory notebook, reaction handling and editor applications. The company started in 2008 as a spin-off with experienced experts who have been working together for nearly 15 years in the field of chemistry and cheminformatics. Sysment's mission is to provide flexible and customized near-shore software development and consulting services to customers and developer companies applying outsourcing as well.
For more information about Sysment Ltd. and its products, please visit http://www.sysment.com.