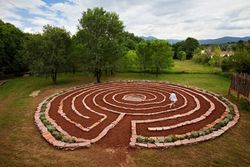 Today, labyrinths are being constructed around the world as a tool for personal growth and spiritual transformation.
Taos, NM (Vocus) May 17, 2010
In this region of the American Southwest where spiritual traditions have been practiced uninterrupted by the Taos Pueblo Indians for at least 1,000 years, another ancient tradition is gaining acceptance; the contemplative use of the labyrinth.
Found in cultures spanning the globe, the earliest known labyrinth design was discovered on a clay tablet in Pylos, Greece, dating from 1,200 BCE. The Greek isle of Crete is also known for its labyrinth, the maze used to entrap the mythical Minotaur. During the Middle Ages labyrinth designs were incorporated into the floor patterns of Europe's grand cathedrals, most notably in Chartes, and in the Renaissance, "branching" garden mazes became popular in the palaces of royalty. labyrinthsociety.org/
Today, labyrinths are being constructed around the world as a tool for personal growth and spiritual transformation. Practitioners use these sacred, earth-based paths to conduct walking meditations, focusing on an issue or concern that is addressed through contemplation or prayer.
This Summer in Taos, eight labyrinths will be available to walk, without charge, in connection with the town's "Return to Sacred Places" travel destination theme. Beginning July 1st, and continuing through October, visitors are invited to be part of the reawaking of this spiritual tradition.
"New Mexico is one of the centers for this transformative spiritual energy," says Sandra Wasko-Flood, visionary artist and founder of The Living Labyrinth Center for Peace (http://www.livinglabyrinthsforpeace.org ). "And Taos, with its 1,000 year old Pueblo, is at the heart of this blossoming Renaissance."
Wasko-Flood is curating many of the labyrinth-related activities including a photo exhibit of labyrinths from around the world that was first exhibited in the rotunda of the US House of Representatives in Washington, DC.
Rev. Wayne Mell, pastor of the First Presbyterian Church in Taos, is also an advocate for this form of walking prayer and has supported the construction of a labyrinth in the church's front yard that will be dedicated on July 18. "Walking the labyrinth can be symbolic of a journey to the sacred center," he says. "It's a practice that can appeal to all ages and faiths, as more and more people explore their spiritual pathways."
Katherine Costabel, who with her husband own the Adobe and Pines B&B, have constructed a beautiful 66-foot diameter labyrinth made of 4,670 pieces of slate and rimmed by 225 native plants. Having experienced her first labyrinth in Sedona, Arizona, Ms. Costabel believes that walking the path reminds one of her earthly journey. "Take something into the circle," she says. "Walk, think and pray and see if you can come to a conclusion." http://www.adobepines.com
Taos Labyrinth Events
June 14 - July 31, 2010
Classic Seven-Circuit Labyrinth at El Monte Sagrado Resort and Spa
Open to the public day and night
317 Kit Carson Road, Taos, NM
http://www.elmontesagrado.com
July 1 - October 31, 2010
66-foot Diameter Slate Rock Labyrinth at Adobe and Pines Inn. Open daily dawn to dusk. Yoga every Saturday with Paul Kelly at 10 am. 4107 N.M. 68, Ranchos de Taos, NM
http://www.adobepines.com
July 1 - October 31, 2010
Stone Labyrinth at San Geronimo's Lodge, 1101 Witt Lane, Taos, NM
Full moonwalks during summer months (June - Sept)
http://www.SanGeronimolodge.com
July 1 - October 31, 2010
Labyrinth Sacred Space at the First Presbyterian Church
Dedication of Medieval-style labyrinth by Rev. Wayne Mell on Sunday, July 18 at 11 am.
215 Paseo del Pueblo Norte, next to Kit Carson Park, Taos, NM
July 4, 2010, 3 pm
Drumming Labyrinth Walk in the Cretan Labyrinth at Touchstone Inn facing Taos Mountain
110 Mabel Dodge Lane, Taos, NM
http://www.touchstoneinn.com
July 4 - August 31, 2010
Santa Rosa contemporary labyrinth at the Blumenschein Museum
222 Ledous Street, Taos, NM
http://www.taoshistoricmuseums.org
July 19 - August 1st
Labyrinth Sacred Space at Kit Carson Park. Hopi Labyrinth design
http://www.taosgov.com/recreation/kit-carson.php
July 29, 2010, 10 am - 1 pm
"Labyrinths for Creativity and Peace Childrens' Workshop."
July 29, 2010, 7- 9 pm
Introduction to Labyrinths: Lecture and walking
Harwood Museum
238 Ledoux Street, Taos, NM
http://www.harwoodmuseum.org
July 30, 2010
"Birth of the Labyrinth"
Light box and labyrinth-inspired fine art and etchings of Sandra Wasko-Flood
Harwood Museum of Art
238 Ledoux Street, Taos, NM.
http://www.harwoodmuseum.org
August 23 - October 1, 2010
"Labyrinths for Peace: 2000" Photo Exhibit. Exhibit of photos of labyrinths from around the world first exhibited at the Rotunda of the U. S. House of Representatives.
Free opening reception; August 28th, 5:30 to 8 pm
Millicent Rogers Museum, Taos, NM.
http://www.millicentrogers.org
###