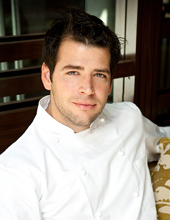 We are so pleased to have such talented and passionate graduates
Gaithersburg, MD (Vocus/PRWEB) March 09, 2011
L'Academie de Cuisine(LAC), one of the 'Top Ten' culinary schools in the United States, has announced that two alumni were nominated for the 2011 James Beard Awards. "We are so pleased to have such talented and passionate graduates who bring their creativity and dedication to their craft," said Chef Francois Dionot, Founder and Director of L'Academie de Cuisine.
Chef Nick Stefanelli graduated from LAC's Culinary Arts program in 2001 and completed his externship with Galileo Restaurant under the direction of Chef Roberto Donna. In 2003, he accepted a position at Maestro, a Four-Star restaurant in Tysons Corner, VA. Under Chef Fabio Trabocchi Stefanelli cultivated a talent for cooking and expanded his knowledge of the nuances of Italian cuisine. Stefanelli also staged at Thomas Keller's world renowned French Laundry in California, in 2004.
Stefanelli went with Chef Trabocchi to New York City in 2007, where he was chef de cuisine at Fiamma restaurant. Here Stefanelli was able to establish his own cooking style blending the culinary heritage of Italy with his own modern sensibilities, crafting his own unique brand of gourmet artistry. Stefanelli returned to Washington and in July 2009, he was tapped to be the new executive chef for Bibiana, a highly celebrated new restaurant in Washington, DC.
Pastry Chef Angela Pinkerton of Eleven Madison Park in New York City graduated from LAC's professional pastry arts program in 2006. Before she ever knew she wanted to be a pastry chef, Pinkerton majored in biology at Kent State. She began her career in pastry in college with a job decorating cakes at a local bakery. After graduating, she decided to become a pastry chef and enrolled in LAC's pastry arts program. As Angela stated, "At L'Academie de Cuisine I learned the foundations of my craft and the paramount importance of patience in the pastry kitchen from (former) chef-instructor Mark Ramsdell. Chef Mark taught me the basics. He has amazing patience which is so important, and really focuses on doing things properly. I'm big on that. You have to be determined. If you really want something you can have it. You can get it. You can work toward it. It's about determination and want. And staying true to what you believe."
From L'Academie, Pinkerton completed her externship in the pastry kitchen of The Ritz-Carlton in Arlington, Virginia before making the move to New York City where she eventually became executive pastry chef at Eleven Madison Park. And it's at this four-star restaurant that Angela collaborates closely with Chef Daniel Humm to create desserts that are at once sophisticated, seasonal and delicious, perfectly complementing the restaurant's modern French cuisine.
About L'Academie de Cuisine
Since 1976, LAC has offered programs designed for students who want a formal education in order to pursue a career in the field of culinary and pastry arts. In 2005, L'Academie was named one of the "Top Ten" Culinary Schools in the United States. The Culinary Arts (daytime and evening) and Pastry Arts Programs provide a course of study in the theory and techniques of classic French cuisine with an emphasis on fine food planning, preparation, and presentation. L'Academie de Cuisine offers small class sizes so students receive personal attention and expert instruction under the direction of European and American trained chefs. The program includes a paid externship program for students to work in fine-dining restaurants, hotels and bakeries. An application is available on LAC's website. Visit http://www.lacademie.com for an application or contact LAC's Admissions Department for more details at (800) 664-CHEF (2433), x201 or admissions(at)lacademie(dot)com
The school also offers over 1000 recreational cooking classes at two locations in Gaithersburg and Bethesda Maryland. Other areas of study include professional culinary development, continuing education and private events. http://www.lacademie.com/.
###