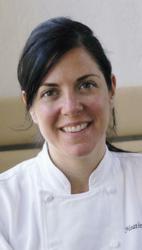 "I am excited about this new chapter in my life".
Gaithersburg, MD (Vocus/PRWEB) April 13, 2011
Chef Francois Dionot, Founder and Director of L'Academie de Cuisine (LAC), one of the "Top Ten" Culinary Schools in the United States is pleased to announce that Heather Roth (formerly Heather Chittum) has accepted the position of Admissions Director for the professional Culinary and Pastry Arts Programs. "Heather's background in pastry coupled with her management skills and knowledge of the Washington restaurant scene will bring a profound strength to our growing admissions department." said Chef Dionot. Heather Roth is replacing Allyson Lara who has moved into the professional Culinary Arts Program at LAC as Assistant to Chef Brian Patterson.
"I am excited about this new chapter in my life. I look forward to working with the very talented staff and instructors at LAC in recruiting and cultivating students to become talented cooks." said Heather.
Heather Roth took an untraditional path to her career as a Pastry Chef. After studying government and international relations at Clark University, she moved to Washington, DC, where she worked on Capitol Hill for former New York State Senator Daniel Patrick Moynihan. After four years, she left to work for Share our Strength (SOS), a non-profit organization dedicated to ending childhood hunger. While there, she was introduced to some of the most influential chefs in the US, which inspired her to revisit her passion for cooking.
In 2001, Heather left the political scene for the world of pastry. After studying pastry at L'Academie de Cuisine in Gaithersburg she accepted a position at Equinox as a pastry assistant and later moved up to become the executive pastry chef for Potomac Hosipitality Group creating desserts for their three restaurants including Circle Bistro, Dish, and Notti Bianche. When the opportunity to work at Citronelle under Washington's culinary genius Michel Richard came along she eagerly accepted the challenge saying that "it was the equivalent of getting a masters degree in pastry."
In 2007, Heather moved on to become pastry chef at Hook, a sustainable seafood restaurant in Georgetown. Espousing the philosophy "no farms, no food" she used primarily locally grown products from the area's farms.
In 2008, Heather won the award for "Pastry Chef of the Year" by the Restaurant Association of Metropolitan Washington (RAMW). Heather has received numerous awards during her tenure as a pastry chef including Star Chefs "Rising Star" award in 2006 and Gayot.com's "Top Five Pastry Chefs" nationwide. In 2010, Heather competed as a contestant on the premier season of the new Bravo series, "Top Chef: Just Desserts."
Wanting to take her career in another direction, Heather applied for the position of Admissions Director at L'Academie de Cuisine where she was hired by Francois Dionot over numerous qualified candidates for this prominent position. Heather has a great connection with the restaurant and pastry world in Washington. Her management background and high energy have put her in the right place to bring her talents together and communicate them to the next generation of culinary students.
Since 1976, L'Academie de Cuisine has offered programs designed for students who want a formal education in order to pursue a career in the field of culinary and pastry arts. Since 2005, L'Academie has been named one of the "Top Ten" Culinary Schools in the United States. The Culinary Arts (daytime and evening) and Pastry Arts Programs provide a course of study in the theory and techniques of classic French cuisine with an emphasis on fine food planning, preparation, and presentation. L'Academie de Cuisine offers small class sizes so students receive personal attention and expert instruction under the direction of European and American trained chefs. The program includes a paid externship program for students to work in fine-dining restaurants, hotels and bakeries. An application is available on LAC's website. Visit http://www.lacademie.com for an application or contact LAC's Admissions Department for more details at (800) 664-CHEF (2433), x201 or admissions(at)lacademie(dot)com
The school also offers over 1000 recreational cooking classes at two locations in Gaithersburg and Bethesda Maryland. Other areas of study include professional culinary development, continuing education and private events. http://www.lacademie.com/.
###