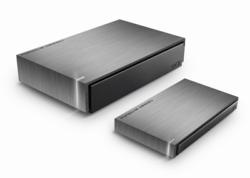 Paris, France (PRWEB) February 22, 2012
Today LaCie and the Porsche Design Group (Porsche Lizenz- und Handelsgesellschaft mbH & Co. KG) announced that the Porsche Design P'9220 and P'9230 hard drives have won a 2012 product design award from the International Forum Design GmbH (iF). These products combine sleek design, solid aluminum casing, USB 3.0 speeds and capacities up to 2TB – making them a clear choice for an iF Design Award.
Award Winning Design
More than 2,900 entries were considered for the 2012 iF Design award. Criteria for winning entries included design quality, finish, choice of materials, degree of innovation, environmental impact, functionality, ergonomics, safety, brand value, and aspects of universal design. LaCie's line of Porsche Design hard drives, P'9220 and P'9230, were selected for their excellent design.
Porsche Design products are known for being functional, timeless and technically innovative – three factors that iF Design experts look for when selecting a winner. LaCie first partnered with Porsche Design in 2003 to produce iconic and widely acclaimed products, and the result of the most recent collaboration continues that legacy.
About Porsche Design
Porsche Design is a luxury brand with a particular focus on technically inspired products. The Porsche Design brand was established in 1972 by Professor Ferdinand Alexander Porsche. The products stand for functional, timeless and purist design, characterised by their technical innovation. The product portfolio includes watches, sunglasses, luggage, a fashion collection for men and women as well as sports apparel, electronic products and a men's fragrance line. All the products under the brand are designed at the Porsche Design Studio in Zell am See (Austria) and are available worldwide in the company's own stores, franchise stores, shops-in-shops, high-end department stores and exclusive specialist retailers. For additional information, visit http://www.porsche-design.com.
About LaCie
With operations in the Americas, Europe and Asia, LaCie is a leading manufacturer of storage devices for PC, Apple, and Linux. LaCie has differentiated itself through sleek design and remarkable technical performance. Find out more about our products at http://www.lacie.com.
# # #