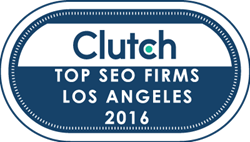 Search engine optimization is perhaps the most crucial component of a modern business's digital identity, but it can be very difficult to build effectively
Los Angeles, CA (PRWEB) December 08, 2016
After a thorough evaluation of the top SEO companies in Los Angeles, online IT research firm, Clutch, has ranked LAD Solutions among its list of the top SEO firms in Los Angeles for 2016. This announcement comes after the company was previously ranked as a top SEO firm in 2015, marking this second time that LAD Solutions has received such recognition.
Clutch is an online research firm that is responsible for ranking the best in software companies and professional services firms from cities around the United States. Their process utilizes intensive research and reviews in order to determine which companies can most effectively meet the needs of their clients at the start-up, mid-market and large business stages. Since its founding in 2012, Clutch has provided access for both buyers and sellers to reviews of over 500 companies in more than 50 markets.
LAD Solutions is ranked among several other SEO companies in Clutch's exclusive 2016 services publication. LAD Solutions has also received an exclusive listing on the Clutch website for the Los Angeles area. Other markets that Clutch focuses on include Boston, Chicago, New York and San Francisco.
"Search engine optimization is perhaps the most crucial component of a modern business's digital identity, but it can be very difficult to build effectively," said Sean Huang, a business analyst at Clutch. "The firms highlighted in our research have demonstrated both their expertise in SEO and their commitment to clients' success on the web."
In addition to a general review of each company's services, Clutch employs a quantitative and qualitative research methodology that evaluates each company's technical certifications, experience level, and market presence in the SEO industry. Clutch analysts also interviewed past clients of LAD Solutions in order to find out more about how the firm approaches challenges, develops strategies, and executes customized SEO campaigns.
The announcement comes as LAD Solutions has also upgraded the certifications of its staff with official Google Partner Specialist Certifications having been obtained by one of its partners and several other employees of the company.
The details are now live on the Clutch website and an official press release has been released by Clutch that outlines the details. For interested parties who want to learn more about these developments, LAD Solutions is available to answer any questions from interested buyers and media contacts that are looking to learn more about how this ranking was obtained and the selection process.
To read the review or to learn more about the rankings for LAD Solutions, the LAD Solution's company profile is available on the Clutch website. Any further questions will be answered by LAD Solution's media contact.
About LAD Solutions: LAD Solutions provides a full range of online marketing services to business throughout the Los Angeles area. As top SEO experts, Lakshmi Kodali, Ali Pourvasei, and David Barkhordari, LAD Solutions was founded in order to help businesses of all sizes drive targeted traffic and increase their sales. To learn more about the services offered by LAD Solutions, visit http://www.ladsolutions.com.