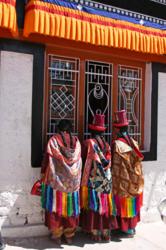 families will become immersed in the Ladakhi communal culture and gain a deep understanding of the Buddhist traditions in this stunning high-altitude region
Bellevue, WA (PRWEB) May 04, 2011
Paravati Family Travel, a Bellevue, Washington-based company offering enriching adventures abroad, is reaching out to parents who want to offer their families and themselves the travel experience of a lifetime this summer.
Unlike a traditional sightseeing tour, this trip offers families the opportunity to experience first-hand the culture of Ladakh, often called "Little Tibet". This region of India is a true paradise of Buddhist philosophy and sustainable lifestyle. Travelers from around the world come to Ladakh to learn about Tibetan culture, themselves and the human experience as it has existed here largely unchanged for two thousand years.
This year's journey will begin in India's capital city, New Delhi, where participants will visit the Red Fort via rickshaw and pass through the famous Silk Road and Silver Bazaar. Families will also have the opportunity to see one of the Seven Wonders of the World, the Taj Mahal, in nearby Agra.
Highlights of the tour include the opportunity to actually become part of the Himalayan village of Stok by living and learning with a host Ladakhi family as they go about their normal daily lives. During the homestay, families will become immersed in the Ladakhi communal culture and gain a deep understanding of the Buddhist traditions in this stunning high-altitude region. In one of the most fun and enriching parts of the trip, families will work on projects organized by Paravati Family Travel with the Siddhartha School in Stok.
Building on the success of last year's tour, company founder Jennifer Spatz is confident that this travel experience will have a powerful impact on participating young travelers and their families. Spatz states, "When we travel, we gain awareness that there is a unity of humankind, a global connectedness that implies certain responsibilities that contribute to our own sense of purpose and happiness."
In addition to the planned community service activities, families will be able to visit local Buddhist monasteries; attend cultural presentations and performances by local Ladakhis; take part in meditation sessions and educational talks about the community's environmental and social concerns; and visit Leh (elevation 11,500 ft.), including the town's renowned handicraft markets on the old Silk Road.
Paravati Family Travel hopes quite literally to elevate the traditional family vacation to new levels—as high as the Himalayas themselves, by adding the opportunity this year for participating families to trek in the stunningly scenic Himalayan foothills of Ladakh.
As Spatz can attest personally, the land offers the prospect for a journey of communal family discovery in which the greatest "peaks" are the deep connections a family makes with each other and with the Ladakhi people. "Participants will have a unique opportunity to experience the ways of life of this ancient, self-sustaining and harmonious culture." This is why Paravati Family Travel is focused on the family; a family vacation that stresses learning and bonding with loved ones.
About Paravati Family Travel: Paravati Family Travel offers life-changing, culturally fun, educational family travel programs which provide participants with a deep understanding of the history and traditions of the community abroad, via pre-trip learning, in-country cultural and historical tours, service learning, homestays and service work with host community schools.
Paravati Family Travel is currently accepting applications for this tour to Ladakh, India. Tour dates are August 7 - 21, 2011. See Website for more information: http://ParavatiFamilyTravel.com/
###