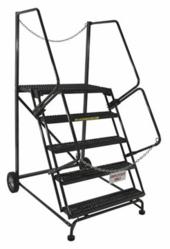 It is Such a Great Deal.
Chicago,IL (PRWEB) June 15, 2013
Another new item is now available at A Plus Warehouse. If a customer is looking for a ladder he or she should consider A Plus Warehouses new Truck and Dock Access Ladders. Ed Stairman, president of A Plus Warehouse hopes that this item "is a new favorite at a Plus Warehouse… it is such a great deal."
What is the Truck and Dock Access Ladder a customer will likely ask? A Truck and Dock Access ladder is a type of rolling ladder that is great for dock access. It has the optimal height and an open top step. It also has a 450 pound capacity. This ladder also comes with an array of options. It is available in the traditional 59 degree ladder slop or a more comfortable 50 degree stairway slope. For the step width, a customer can choose between 24 and 36 inches wide. These ladders also conform to ANSI and OSHA regulations. This ladder also includes a 21 inch deep top step and comes in grey. This ladder is also one of A Plus Warehouses rolling ladders.
A Plus Warehouse offers a wide array of rolling ladders. These include but are not limited to the popular Fantasy Rolling Ladders, Next Step Ultra Wide Rolling Ladders. Outdoor rolling Aluminum Ladders, and many more. If a customer looks on the A Plus Warehouse website, the customer will see the wide variety of rolling ladders and warehouse ladders in general that the company offers.
An interesting feature of A Plus Warehouse is the shipped from Quebec items. This makes it much easier for customers from Canada. The items in this section include the One Step Ladder, Rolling Ladders without Handrails, Rolling Ladders with Handrails, Low Rise Pull and Roll Ladders, High Rise Pull and Roll Ladders, and Double Access Platforms. These are all great items and ready to ship to our Canadian friends. All of these ladders also meet or exceed ANSI 14.7 and OSHA 1910.29 safety requirements.
A Plus Warehouse is very pleased to add yet another item to the vastly growing company. A future customer may also ask why chose A Plus Warehouse. At A Plus Warehouse, there is a wide array of Materials Handling and Storage Items to satisfy a customer. The A Plus Warehouse website is also extremely user friendly. Plus, Warehouse customers often say that the company is big enough to handle their order yet small enough to realize each order matters. This is something the company takes pride in. The company hopes that future customers will love the Truck and Dock Access Ladder and other Warehouse Ladders.