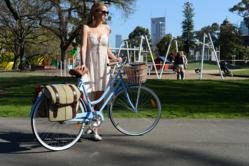 Our retro bikes have the look, and price, everyone's after. They're the perfect bike for summer.
Melbourne, Victoria (PRWEB) November 29, 2012
Proclaiming themselves as 'Australia's best value bikes,' Reid Cycles recently decided to launch a video to showcase how great their affordable vintage bicycles are for summer. Being launched only two weeks ago, their YouTube views have climbed beyond expectation. David Hannay, Marketing Manager of Reid Cycles remarks, "The video's message has clearly worked, because the sales for our ladies vintage bikes has spiked considerably. Obviously viewers realize what great Christmas gifts they make at only $235."
Growing popularity for vintage-looking products has created steep prices, thanks to fashion trends and reality TV shows about trash & treasure hunting. For shoppers looking for a great gift for the summer holidays, getting the popular retro look without the high price tag can be a bit of a struggle.
Reid Cycles realized their popular ladies vintage bike range is a great solution for those seeking summer-inspired gifts, so they decided to launch a new video starring the famous retro bikes.
"We made it our mission to get the message out there," says David Hannay, Marketing Manager for Reid Cycles, "And that is, our retro bikes have the look, and price, everyone's after. They're the perfect bike for summer."
The video, entitled "Summer at Reid Cycles – Australia's Best Value Bikes", is meant to express how ideal their bikes are for the upcoming summer season, and at a bargain price. With retro-sounding rock tunes and images of trendy couples engaging in all things summer, the YouTube video has far surpassed David's expectations, nearly hitting 6,000 views in less than two weeks.
"We're really pleased with how quickly this video has spread," David remarks, "it shows people are sharing the knowledge that our vintage bicycles are stylish and well priced."
David sees this positive video response as the reason for their big sales spike leading into Christmas. "The video tells the viewer, 'these bikes are fun, fashionable, and affordable'," continues David, "And starting at only $235, it makes sense our ladies vintage bikes have become the best gift for the summer season, and are selling so fast."
The ladies vintage bicycles, which come with Reid Cycle's 15 year frame & fork warranty, 12 months free servicing, and $100 worth of free accessories, are available in single or six-speed. There's also a variety of chic baskets to choose from.
David finishes by mentioning Reid Cycle's current holiday special, "Right now, we're also giving customers 10% off the face value of gift vouchers. That means you can buy a $100 voucher for only $90."
To view the "Summer at Reid Cycles" video, visit: http://youtu.be/fC9yN57PtrM, or for more information about Reid Cycle's ladies vintage bikes, single-speeds or fixies, visit: http://www.reidcycles.com.au/
About Reid Cycles
Reid Cycles was originally founded by James Reid, a cycling enthusiast who had the intention of providing cyclists with a great quality bike at an unbeatable price.
Now with 3 thriving locations in Australia's Eastern states and a popular online bicycle store, Reid Cycles is unique in that it's one of the only bike brands in Australia to sell direct to the public at wholesale prices. They do so by cutting out the middlemen – buying directly from a well established manufacturer in China who produce approximately 4 million of the biggest brand bikes per year – and then selling direct to their customers.
To learn more about Reid Cycles, visit http://www.reidcycles.com.au/about.html/