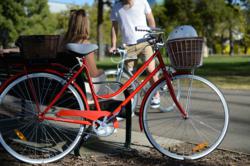 Why catch the tram or drive when you can ride your own fashionable vintage bike?
Melbourne, Victoria (PRWEB) October 07, 2012
With the arrival of springtime, images of sunshine and picnics come to mind, forcing once dormant people outdoors to their favourite gathering spots and parklands. So, it's no surprise to see more and more ladies vintage bikes appearing on the streets and up against cafe frontages, with baskets full of French baguettes, fruit and flowers. It's actually a fashionable scene growing increasingly familiar in cities across Australia.
It's that exact scene combined with warmer weather and the resurgence for all things retro, that's forced Reid Cycles, a leading Australian manufacturer of Dutch Style Bikes, to expand their retail space in Melbourne by tripling in size to accommodate stock for the growing demand.
"Our ladies vintage bikes have seen a steady increase in popularity over the years," says David Hannay, Marketing Manager of Reid Cycles, "But this year's onset of spring has spiked interest like no other, so to meet demand we've had to increase our range by doubling the variety. We now offer ten different colours in the Dutch style bikes."
In a society set majorly indoors, riding a bike to work or up to the local shops is an effective way to get the exercise and sunlight exposure greatly needed after winter. David further comments, "The improving weather is definitely a big driver for our growing sales, why catch the tram or drive when you can ride your own fashionable vintage bike – and breathe in the fresh spring air?"
Reid Cycles have also increased their retro bike accessory assortment, stocking more items such as bags and front and rear baskets. "The front basket on the ladies vintage bicycles is a big seller," remarks David, "it's synonymous with that Dutch bike style that's all the rage right now."
In addition to the bike's general popularity, the fact there's no need to be an athlete or buy special gear to ride, is a big plus for consumers. David also adds, "A person of any fitness level can easily step-through the frame and benefit from the comfort and exercise our vintage bikes have to offer."
Topping off the bike's trendiness and ease, is the affordability – which suits all budget types. Prices start from a low AU$235, and include a 15-year frame warranty and 12-months free servicing. The low-cost is a result of Reid Cycles' cutting out the "middleman" system, whereby they're able to offer their wares at wholesale costs, making that spring-time bike outing even more tempting for all.
"What's more, we even throw in a free pump, lights, lock and drink bottle with each bike purchase," exclaims David, "it's everything you need to get a spring picnic underway, well maybe everything except the sandwiches!"
To find out more about quality singlespeed bikes, visit: http://www.reidcycles.com.au/bicycles/fixies-singlespeed-bikes.html
About Reid Cycles
Reid Cycles was originally founded by James Reid, a cycling enthusiast who had the intention of providing cyclists with a great quality bike at an unbeatable price.
Now with 3 thriving locations in Australia's Eastern states and a popular online store, Reid Cycles is unique in that it's one of the only bike brands in Australia to sell direct to the public at wholesale prices. They do so by cutting out the middlemen – buying directly from a well established manufacturer in China who produce approximately 4 million of the biggest brand bikes per year – and then selling direct to their customers.
To learn more about Reid Cycles, visit http://www.reidcycles.com.au/about.html/