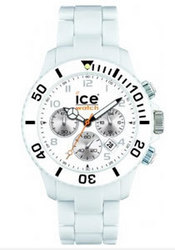 Ice Watch are in the midst of a stellar rise. Beginning as a new concept watch brand, they are fast becoming trend setters on the watch fashion scene in 2010.
(PRWEB) May 4, 2010
This year, we have finally seen a change from the 'bling' trend which dominated the designer watches market throughout the nineties. This is largely due to newcomers, such as Ice, introducing new watch designs for ladies that are have the pulse of the current fashion trends.
This multinational brand faced strong competition from the American brand Toy watch; however clever marketing smoothed the way for the Ice Watch to quickly gain a strong presence as a designer watch brand on the British high street within a few months of its launch in the UK.
Ice Watch have also turned to the lucrative world of celebrity endorsements, with A to Z list stars wearing timepieces by Ice Watch. Ladies watches from the Ice Watch range have been seen on Paris Hilton and also Desperate House Wives star Felicity Huffman. January 2010 saw actresses Abigail Spencer, Amanda Righetti & Summer Altice all sporting the latest ladies watches from the Ice Love range.
This celebrity following has lead to substantial coverage in fashion magazines the world over, both factors which have undoubtedly helped to sky rocket the Ice brand to a position from which it can compete with haute couture brands such as D&G, DKNY, Chanel and Dior.
It is not only intelligent public relations that has pushed the Ice Watch brand ahead of its more established competition - shrewd pricing and a sound awareness of their customers desire for affordable fashion, have also contributed to making the Ice Watch brand THE must have designer ladies watch brand for summer 2010.
Ice Watch are not sitting on their laurels though. The brand have declared their aim to make this summer their biggest season yet and already a few surprise changes have been made to the direction of their watch collections. In a somewhat unforeseen move, Ice Watch decided to phase out their popular range of clear plastic watches within the summer 2010 collection.
In their place, Ice Watch have launched the Ice Love collection of watches - a range of silicone based designer watches featuring a distinctive design of large hearts in the centre of the dial and 'Ice Love' inscribed all over the bezel. With over 100 watches in the collection, both ladies and men are spoilt for choice when choosing their new Ice Love Ice Watch.
Ice Watch designer watches are available online through http://www.hotwatches.co.uk who are one of their official stockists for both ladies and men.
###