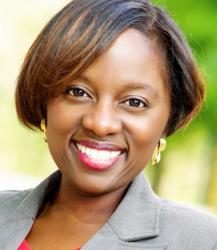 Although I enjoy speaking and traveling around the country, there is no place like home.
Atlanta, GA (PRWEB) February 28, 2013
Angela Ray will be the keynote speaker for "Ladies Night In" on Saturday, April 13, 2013 at the AIT Festival Hall in Fayetteville, North Carolina. The theme for the event is "The March." The evening will feature entertainment, dinner, raffle prizes and great gift bags. The event will recognize military wives and pay special tribute to mothers with children who suffer from O.I. (Osteogenesis imperfecta) or brittle bone disease.
"I am excited to able to return to Fayetteville to inspire the women in my hometown. Although I enjoy speaking and traveling around the country, there is no place like home," Ray said.
A native of Fayetteville, Ray is a graduate of South View High School where she finished with honors in the top fifteen percent of her class. She went on to graduate with honors from the University of North Carolina at Chapel Hill.
"The March often results in stories wrapped in a sense of self worth, leadership," said Leslie Wright, the Ladies Night coordinator. "It captures the commitment among women. This event will display women with purpose."
The event in Fayetteville is free and open to the public; however, preregistration is strongly encouraged as dinner will be provided. The program will start at 6:00 p.m. To register, please visit http://ladiesnight7.eventbrite.com. The event is for women only.
About the Event
Ladies Night In is an intimate networking event for the working woman. Each tour stop features speakers, networking, and vendors. Partiez by Leslie Event Planning Company is the corporate umbrella for Ladies Night In. The company hosts private, social and corporate events along the east coast. Next year, Ladies Night is scheduled to make a stop in Canada in February.
About the Company
Angela Ray International LLC is consulting company designed to empower individuals and organizations. Through motivational speaking, books, at home study courses, and coaching, the company seeks to help transform lives and equip audiences with the tools to create their own success.