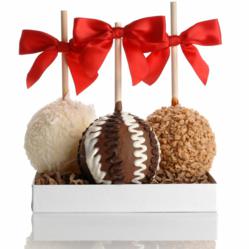 "Our Goliath Apples cut like a cake and feed up to 12 people!" ~Daria Artem
Los Angeles, CA (PRWEB) July 31, 2012
They say eating an apple a day keeps the doctor away- so when Los Angeles based Lady Fortunes recently announced their new line of Caramel Chocolate Apples- having your apple a day never tasted sweeter!
Called "The ULTIMATE Caramel Apple"- this gargantuan treat is a confectionery giant among all its counterparts. Starting with a crisp, CA grown Granny Smith Apple, Confectionery Artisans hand dip it in luscious caramel, then cover it in a tantalizing jacket of Crispy Rice Treat- but it does not stop there! Each apple is enrobed in a rich coating of Belgian Chocolate- and decorated in a plethora of different toppings and decor.
Biting into one of these apples is a feat on its own- the huge apple is best cut like a cake into irresistible wedges. The apple feeds up to 12 people and weighs over a pound.
"Lady Fortunes is famous for our gourmet Giant Fortune Cookies- so it was only natural to come out with a Goliath Apple!" says Daria Artem, CEO and Founder of the company. When asked how she came up with the combination for her Ultimate Candy Apples, Artem replied: "One of our customers griped that they expected a Giant Apple when they placed an order for our Caramel Chocolate Apples. Although the taste was great, she was disappointed in the size because of her expectation at seeing something larger given her experience with our Giant Fortunes". Artem wanted to make sure her customer had the sweetest experience possible- so she scoured the local farmers markets for a larger apple- but could not find on to satisfy her needs. "It dawned on me- if we could not find a bigger apple- we would need to dress it up in layers!"
Thus, after much experimentation and a few tests gone wrong- the winning edible wardrobe was finally born for the humble Granny Smith. Caramel- Crispy Rice Treat- Chocolate and a dazzling assortment of toppings and decorations.
With orders piling in from department stores across the country, and interest from online retailers, the company is not worried about selling out of these delicious creations quickly.
Today, there are over 100 varieties of the Ultimate Caramel Apple offered by Lady Fortunes. Adorned with whimsical hand crafted royal icing edible decorations and showered with colrful sprinkles, or decorated with gourmet chocolate swizzles and drizzles, these gourmet gifts are a perfect gift for friends, family, or business. They are available online for a price of $19.99 which includes the confectionery colossus wrapped in a cello bag with decorative bow and hand packed in lovely gift boxes with tissue paper to match.
Orders placed before 3pm EST/Noon PST can ship same day.
About Lady Fortunes:
Since 2004, Lady Fortunes has been a leading manufacturer of Gourmet Cookies, Confections and Gifts. Lady Fortunes' desserts have been enjoyed in the White House, at events at the Library of Congress, at the Emmy Awards®, during Oscar® after-parties, on the Ellen Degeneres Show, The Today Show, and have been featured in magazines from InStyle to Better Homes and Gardens. Lady Fortunes' products are available online and through upscale retailers including Dylan's Candy Bar, Macy's, Nordstrom, Neiman Marcus and Henri Bendel.