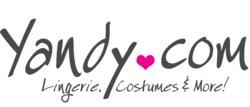 PHOENIX, Ariz. (PRWEB) October 18, 2012
With Halloween approaching quickly, Yandy.com shoppers are buzzing about the site and are being drawn to sexy bee and ladybug costumes for their fright night ensembles. Although ladybugs and bees do not necessarily evoke fear, year after year, women are drawn to these insect inspired costumes due in part to the sweet silhouettes and numerous styles available.
Yandy.com, online retailer of women's Halloween costumes and lingerie, offers nearly 3,000 different varieties of costumes with sexy ladybug and bee costumes topping the popularity list. Yandy offers shoppers more than 40 different styles of bee and ladybug costumes to shop ranging in price from $22.95 to $98.95 and every price range in between.
Although a big majority of Yandy's bee and ladybug costumes are customer favorites a few do stand out in the group. The Sexy Honey Bee Costume is a much sexier option but one of the most popular choices and features a black triangle bikini top, matching mini skirt with faux yellow fur trim and a matching, yellow faux fur, antenna head band. Paired with knee high, black and yellow faux fur legwarmers, any daring party-goer is sure to cause a buzz. A more conservative, but still sexy, option shoppers are drawn to at Yandy is the Fly Away Ladybug Costume which includes a red and black, polka dot print mini dress with a dual lace-up front, layered skirt and ladybug wings paired with red and black, faux fur, polka dot print legwarmers.
Not only are there endless sexy ladybug and bee costumes to choose from this Halloween at Yandy.com, but every shopper also receives free, flat rate shipping on orders over $70 as well as a free panty with every order.
About Yandy.com
E-commerce is on the rise and Yandy.com is one of the largest online retailers of lingerie, sexy Halloween costumes, swimwear and clothing on the web. Founded in 2003, Yandy boasts more than 6,500 products always in stock at easily affordable prices. Yandy ensures that every customer will receive a safe, secure and private online shopping experience and is backed by COMODO online security and Google Checkout. Yandy is dedicated to customer service and only sells what is in stock which allows for quick, same day shipping. Offering the highest quality products at the most affordable prices in the market, Yandy has become a leader in e-commerce. Yandy works closely with all of the manufacturers they distribute for and hand select all of the items on the Web site to ensure customers have the largest and most diverse collection to choose from. In addition, the customer service team at Yandy is unrivaled. With attentive and helpful operators, should a question or problem arise, the customer service team at Yandy is always willing and able to assist. At Yandy, every customer can Be Sexy.