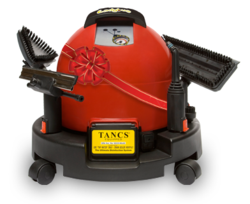 For Ladybug steam cleaner orders placed prior to December 17, 2012 that are not delivered by Christmas Day, 1-800-GO-VAPOR.com will issue a $50 Gift Card.
Lake Forest, Illinois (PRWEB) November 28, 2012
1-800-GO-VAPOR.com, the go-to source for quality built vapor steam cleaners, today announced a Christmas Day delivery promotion that guarantees customers that their Ladybug steam cleaner purchase will be delivered by Christmas Day 2012 (12/25/2012).
For in-stock Ladybug steam cleaner orders placed prior to December 17, 2012 that are not delivered by Christmas Day, 1-800-GO-VAPOR.com will issue a $50 Gift Card.
"We live in a hi-tech world," says K. K. Dunlop of 1-800-GO-VAPOR.com. "And using traditional supermarket cleaning products is akin to using smoke signals instead of cell phones. In fact, in your war on dirt and germs, you are likely making things worse if you are still using supermarket chemical cleaners. Not only do these products require scrubbing on your hands and knees, they have toxic fumes that can linger for days—even months! These fumes affect not only our lives but the environment, as well."
1-800-GO-VAPOR.com offers its customers four Ladybug steam cleaner models, including the top-selling Ladybug Tekno 2350 steam cleaner. Equipped with Ladybug's proprietary patented TANCS® technology, the Tekno qualifies as disinfection devices for the EPA.
Steam vapor systems armed with TANCS® like the Tekno 2350 have been extensively tested and scientifically proven to disinfect surfaces in much less time and with greater safety and effectiveness than traditional typical disinfectants.
According to Chuanwu Xi, Assistant Professor in the Department of Environmental Health at the University of Michigan, "Scientific studies have found that biofilms can be up to 1000 times more resistant to biocide inactivation than are suspended microbes. It is extremely difficult to get rid of biofilms and kill them. The efficacy of the steam vapor system is important because even strong chemical disinfectants such as bleach when allowed 20 minutes of dwell time did not achieve the same degree of kill that the TANCS®-equipped unit accomplished in three seconds."
For a limited time, all Ladybug steam cleaners ship with a free accessory kit valued at $30. Shipping to Alaska, Hawaii, U.S. territories, APO, FBO, PO Boxes or international destinations is excluded from the guaranteed Christmas delivery promotion.
Located in Lake Forest, Illinois, 1-800-GO-VAPOR.com is moving fast to educate consumers and businesses that finally, there's a feasible, environmentally friendly alternative to chemicals. With customers in every state in the nation and seven foreign countries, the company maintains an A+ rating with the Better Business Bureau and markets Reliable, Vapamore and Ladybug vapor steam cleaners worldwide. For more information, call 1-800-468-2767. 1-800-GO-VAPOR.com is a proud member of the Safer Chemicals, Healthy Families coalition, a nationwide effort to protect families from toxic chemicals. To stay safe and avoid toxic chemicals, keep abreast of the latest news with 1-800-GO-VAPOR.com's Twitter account, @1800GOVAPOR.