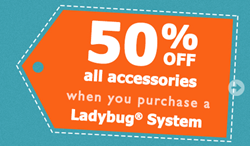 The accessories promotion ends on Monday, March 31, 2014.
Vernon Hills, Illinois (PRWEB) February 25, 2014
LadybugSteamCleaners.com, a worldwide marketer of Ladybug vapor steam cleaners, announced today that it is sweetening the pot to get consumers to ditch their traditional household cleaners, many of which contain potentially cancer-causing toxins, for a chemical-free Ladybug steam cleaner by offering 50% off Ladybug steam cleaner accessories.
The accessories promotion ends on Monday, March 31, 2014.
"People like to order additional accessories when buying a Ladybug steam cleaner," says V.K. Dunlop of LadybugSteamCleaners.com. "50% off all accessories with free shipping really adds up."
TANCS®-equipped Ladybug steam cleaners—like the top-selling Ladybug Tekno 2350 with Ladybug's proprietary patented Thermo Accelerated Nano Crystal Sanitation technology—are scientifically proven to produce better results than traditional disinfectants, which qualifies the steam cleaners as disinfection devices for the U.S. Environmental Protection Agency (EPA Est. No. 82121-WA-01).
"Many traditional disinfectants are loaded with potentially cancer-causing chemicals," says Dunlop. "The simplified water-only protocol of the Tekno 2350, which proudly displays a yellow sticker on one side that says TANCS® in bold letters, cleans, disinfects and deodorizes almost any surface without chemicals."
Located in Vernon Hills, Illinois, LadybugSteamCleaners.com is moving fast to educate consumers and businesses that finally, there's a feasible, environmentally friendly alternative to chemicals. For more information, call 1-877-840-2977. LadybugSteamCleaners.com is a proud member of the Safer Chemicals, Healthy Families coalition, a nationwide effort to protect families from toxic chemicals. To stay safe and avoid toxic chemicals, keep abreast of the latest news with LadybugSteamCleaners.com's Twitter account, @LadybugSteam.