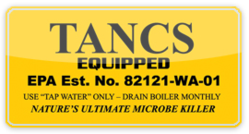 The yellow label tells you in a glance that the Tekno qualifies as a disinfection device for the EPA.
Lake Forest, IL (PRWEB) May 14, 2013
Today, 1-800-GO-VAPOR.com, a national ecommerce company specializing in top performing vapor steam cleaners for home and commercial use, announced that the Ladybug Tekno 2350 vapor steam cleaner retained its title as the company's top-selling steam vapor system through March 2013.
A company spokesperson said it didn't surprise 1-800-GO-VAPOR.com that their highest priced vapor steam cleaner remained their top seller.
According to 1-800-GO-VAOR.com, most Tekno buyers want the optional trolley. It's the combination of the trolley option and the fact that the Tekno comes standard with TANCS® that made the Tekno 1-800-GO-VAOR.com's top selling vapor steam cleaner through March.
Thermo Accelerated Nano Crystal Sanitation technology (called TANCS®) is proprietary to Ladybug vapor steam cleaners and provides users with the ability to disinfect a surface at a level supported by the U.S. Environmental Protection Agency (EPA).
Vapor steam cleaners equipped with TANCS® are lab tested and scientifically proven to produce better results than traditional disinfectants. TANCS®-equipped vapor steam cleaners like the Tekno 2350 proudly display a yellow label that says "EPA Est. No. 82121-WA-01" in bold letters. The label tells you in a glance that the Tekno qualifies as a disinfection device for the EPA.
Located in Lake Forest, Illinois, 1-800-GO-VAPOR.com is moving fast to educate consumers and businesses that finally, there's a feasible, environmentally friendly alternative to chemicals. The company markets Reliable, Vapamore and Ladybug vapor steam cleaners worldwide. For more information, call 1-800-468-2767. 1-800-GO-VAPOR.com is a proud member of the Safer Chemicals, Healthy Families coalition, a nationwide effort to protect families from toxic chemicals. To stay safe and avoid toxic chemicals, keep abreast of the latest news with 1-800-GO-VAPOR.com's Twitter account, @1800GOVAPOR.