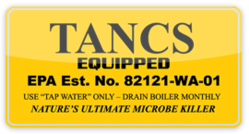 The yellow label tells you in a glance that your Ladybug qualifies as a disinfection device for the EPA.
Vernon Hills, IL (PRWEB) May 10, 2013
With summer around the corner, LadybugSteamCleaners.com is adding more accessories to the popular Ladybug XL2300 vapor steam cleaner. Today, the company announced complimentary towels and filler pads with every XL2300 order. The limited time offer is valued at $30.
"To most of us, summer means backyard barbeques and days at the beach," says V. K. Dunlop of LadybugSteamCleaners.com. "Busy people don't have time for home chores during the summer months."
According to Dunlop, the popular Ladybug XL2300 cleans faster and flat-out better than most chemicals; which means people spend less time cleaning and more time doing what they like.
"You don't have to break into a sweat to keep your home looking its best this summer," says Dunlop. "Owning a Ladybug XL 2300 vapor steam cleaner can cut your cleaning time by about 50%."
But Ladybug vapor steam cleaners are more than time savers, says Dunlop. They also are eco-friendly. In fact, Dunlop encourages people everywhere to look under their kitchen sink, and in the spirit of the coming summer, use an 'out with the old, in with the new' mentality.
"Replacing cancer-causing chemical cleaner with a Ladybug XL2300 steam cleaner is a wonderful and healthy way to refresh your home from top to bottom," she says.
The XL2300 features on-board tool storage, a pressure gauge for monitoring steam levels, a low water indicator light, and qualifies as a disinfection device for the U.S. Environmental Protection Agency (EPA) when purchased with the TANCS® option.
According to Dunlop, Ladybug leads the steam cleaner revolution with its line of steam vapor systems. Steam cleaners equipped with Ladybug's proprietary patented Thermo Accelerated Nano Crystal Sanitation technology (called TANCS®) are lab tested and scientifically proven to produce better results than traditional disinfectants.
"While bleach has been trusted for years as the perfect disinfectant, bleach leaves as many live bacteria cells as dead cells," says Dunlop. "But scientific testing has found that steam cleaners equipped with TANCS® kill the cells that are unreachable by bleach."
TANCS®-equipped steam cleaners proudly display a yellow label that says "EPA Est. No. 82121-WA-01" in bold letters.
"Don't be fooled by imitations," says Dunlop. "Ladybug is changing the way people clean with its revolutionary TANCS® technology. The yellow label tells you in a glance that your Ladybug qualifies as a disinfection device for the EPA."
Located in Vernon Hills, Illinois, LadybugSteamCleaners.com is moving fast to educate consumers and businesses that finally, there's a feasible, environmentally friendly alternative to chemicals. For more information, call 1-877-840-2977. LadybugSteamCleaners.com is a proud member of the Safer Chemicals, Healthy Families coalition, a nationwide effort to protect families from toxic chemicals. To stay safe and avoid toxic chemicals, keep abreast of the latest news with LadybugSteamCleaners.com's Twitter account, @LadybugSteam.